Recipe: Empanadas
When I first bit into the flaky pastry, I was utterly disappointed.
I was in a summer cooking class with a gaggle of other third- and fourth-graders and couldn't have been more excited to be cooking something I had never heard of before: empanadas. But unfortunately, the recipe had clearly been dumbed down for the palates of picky little children like me – it didn't taste much different from the plain beef and potato pies that I ate growing up in my own home.
It wasn't until after I became a vegetarian eight years later that I would try empanadas again. I was at a summer food festival with my family, sunburned and sweaty under the sizzling Sacramento sun, when I stumbled upon an Argentine empanada food tent. To my surprise, they had a vegetarian mushroom and cheese option, filled with sweet caramelized shallots, rich mozzarella and ricotta. It tasted exactly how you'd expect a fried, cheese-filled pastry to taste – greasy, heavy and rich. But most of all, delicious.
Here's my attempt at recreating that savory treat. I took a couple of liberties with the recipe, adding nutmeg to the filling as it adds a sweet and bitter touch that pairs beautifully with ricotta cheese, and baking the pastry instead of frying it simply because it's a much easier and cleaner method of cooking. But despite those changes, it's still just as tasty and filling as the pastry I consumed on that scorching hot summer day.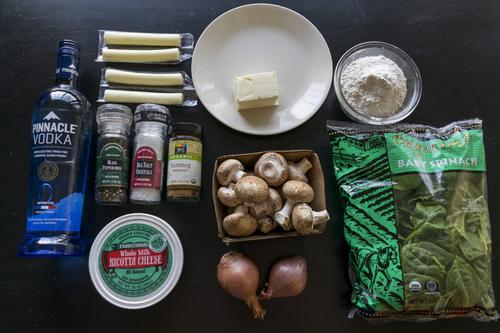 Filling: 1 cup brown mushrooms, sliced 1 shallot, sliced 1/2 cup spinach 1/2 cup ricotta 1/2 cup mozzarella, shredded 1 pinch nutmeg Salt and pepper to taste 2 tablespoons olive oil or butter Pastry: 1 1/3 cup flour 1/2 teaspoon salt 1/2 cup shortening or cold butter 3 tablespoons cold water 1 tablespoon vodka 1 egg yolk 1 teaspoon milk
Makes four empanadas.
Steps: For the filling:
Add sliced shallots, salt, pepper and olive oil or butter to pan and sauté over medium heat for 10 to 15 minutes or until the shallots are soft and translucent.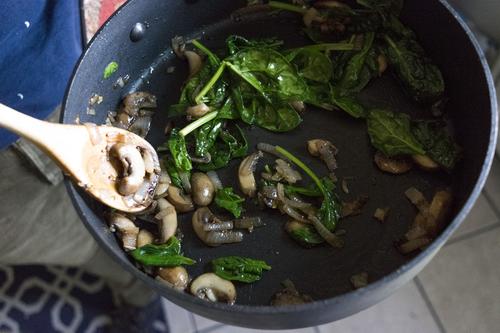 Add the mushrooms and continue to sauté for additional five to 10 minutes, or until the mushrooms have browned and the shallots caramelized. Take pan off heat. Add spinach and stir. The residual heat should cook the spinach enough so that it wilts down significantly.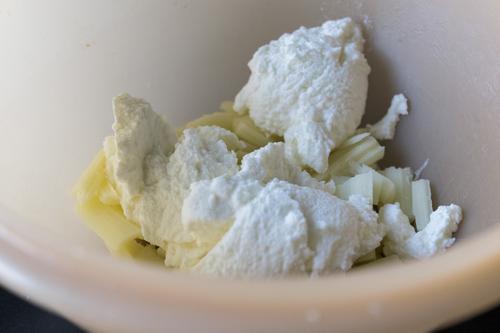 Add ricotta, mozzarella and nutmeg to a bowl. Remove grease from pan with a paper towel, and add the vegetable mixture to the cheese. Stir until well combined. Reserve.
For the pastry:
Preheat oven to 450 degrees Fahrenheit.
Add flour and salt to a medium-sized bowl and whisk together. Add shortening or butter to bowl and cut in with a fork or pastry blender until the dough resembles the texture of coarse sand.
Add 1 tablespoon of water, and stir with a fork to combine. Add the vodka, and stir again to combine. Repeat with water, until the dough is moistened and can be formed into a ball.
Roll the dough into one big ball. Cut ball into quarters. Roll quarters into balls, and using a floured rolling pin, roll each ball out into circles, each about a quarter of an inch thick.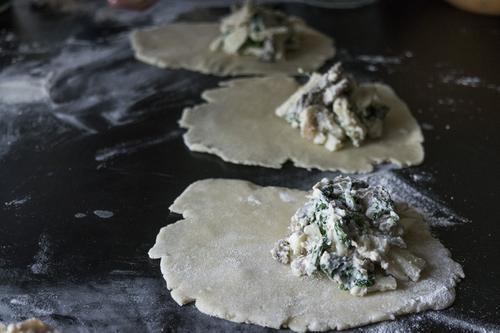 Add 1 to 2 spoonfuls of filling to one half of the dough circles, being careful to leave about a half inch of space at the edges of the dough. Using a finger, dab the edges of the dough with a small amount of water to make the dough stick. Fold the dough over, creating a semicircle. Press the edges of the dough with a fork, or crimp as desired to ensure that the pastry doesn't open up when cooking. Prick the center of the empanada with a fork to make holes for steam to escape when cooking.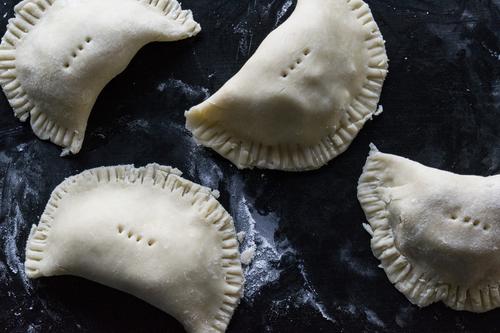 Whisk egg yolk and milk together to create an egg wash. Brush egg wash over each empanada.
Place empanadas on a cookie sheet lined with parchment paper and bake in the oven for 15 to 20 minutes, or until the pastry is flaky and golden-brown.
Allow five minutes to cool before serving.