Behind the Bouquets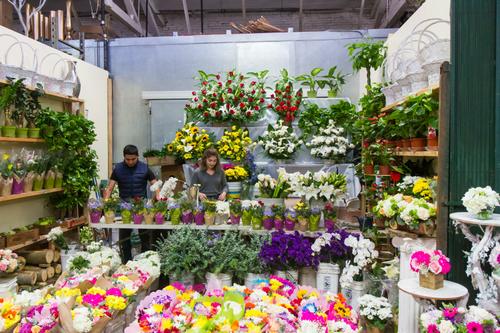 Brimming with vibrant sunflowers, dark red roses and periwinkle hydrangeas, the California Flower Mall is one of several flower shopping destinations in the Los Angeles Flower District. Located inside a large warehouse, various vendors sell their floral fare from 4:30 a.m. to 4:30 p.m. Monday to Saturday and 5 a.m. to noon Sundays.
Although many of the other flower shops in the district specialize in a certain type of flower – orchid and rose shops being some of the most frequented specialty stores – the California Flower Mall features a collection of 30 vendor stalls, which either market certain flowers or present a vast collection for customers to peruse. Some stores are lined with only gerberas in a multitude of colors like electrifying blue, bright green and sunny yellow. Others feature a plethora of options, selling sunflowers alongside irises and roses.
But behind the bouquets being showcased at each of the stands is a vendor arranging the buds, petals and leaves of the flowers to his or her taste. Each vendor spends the day receiving shipments of seasonal flowers, which they gather into wedding centerpieces or floral arrangements. Join prime as we explore the vendors' stories at the California Flower Mall and the ever-blossoming flower industry.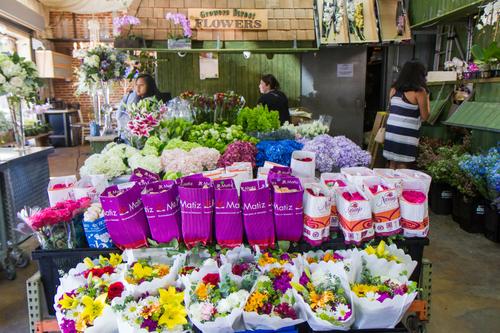 Growers Direct
The first shop in the warehouse, Growers Direct Flowers Inc., has sunlight pouring through the windows onto the orchids and leafy stems hanging over the counter at which flower designer Sylvia Lozano crafts floral arrangements. Next to the flowers is a wooden table topped with a coffee machine for Lozano's meetings with potential clients. As a flower designer, Lozano works with customers to envision how arrangements can be used to set the scene for quinceaneras or weddings.
Because Growers Direct specializes in large events, Lozano's job requires an eye for aesthetics along with a mind for logistics. Lozano claims it is the balance of the creative with the analytical that makes her job so satisfying.
"We try to see what vision (customers) have, and we try to make that happen with flowers," Lozano said. "We have to plan matching colors and matching bases all under a budget, so we take a lot into consideration."
Lozano mainly works on arranging floral designs for weddings. Since weddings are such important dates in people's lives, being involved in the planning process is an honor Lozano does not take lightly, she said.
"One time we had a bride who lost her father and wanted a specific flower that reminded her of him," Lozano said. "Even though the flower was not in season, we got it for her, and she cried when she saw the bouquets."
Working with momentous events like weddings and coming-of-age ceremonies can be challenging when clients have expectations that cannot be fulfilled. Lozano often has to remind clients to keep an alternate plan in case the flowers are out of season or unattainable at the time.
"I have personally delivered flowers out of season for a bride before, and I will go out of my way to make a client's wish come true," Lozano said. "But I am still working with nature, so we have to be realistic."
Lozano also loves engaging with her customers to gain face-to-face interaction and make the flower-arranging process have more significance. Because she can see her client's emotions, Lozano is able to be more passionate about her job and come through for her customers, she said.
"I love talking to the brides to plan the flower arrangements," Lozano said. "When I see their excitement before, I want to make flowers that make them feel the same way on their special day."
Vinny's Wholesale Plants and Flowers
Vinny's Wholesale Plants and Flowers is the second stall in the row of flower shops. With alluring bouquets in a kaleidoscope of colors placed next to pristine, white floral centerpieces for the wedding collection, the stall's strategic contrasting of color schemes instantly drew my eye. We went up to the two vendors behind the stand to ask if I could converse with them, and they each smiled and warmly said yes before pointing at the other to indicate who would do the talking. I asked if the two were related, and they informed me they were husband and wife. Incidentally Jovana Vazquez, had met her husband Geraldo Rojas at another flower market in Anaheim, California.
"I got in the business through my husband," Vazquez said. "I met him at the flower market, and we really hit it off. As I fell in love with him, I fell in love with the flowers."
Vazquez joined her husband's family business of wholesale floral service. Vinny's is a business run by four different family members with four different units, three stalls in Los Angeles and one in Anaheim. With two stalls inside the California Flower Market, family members are able to run the business alongside each other.
"We are definitely very family-oriented," Vazquez said. "That is why I love being there during family events like weddings and funerals to offer flowers and services."
Both Rojas and Vazquez enjoy the freedom of working for themselves and collaborating with family members for business decisions.
"I enjoy that I am self-employed and do not have to answer to a boss," Rojas said. "Plus, I work with my hands and am not stuck in an office filling out papers."
Hearing this statement, Vazquez enthusiastically nodded and expanded on her husband's sentiment, citing creative freedom as the main appeal of her job.
"The best part of this job is the freedom, especially when it comes to creativity," Vazquez said. "I work with different arrangements and create a range of arrangements for so many different people."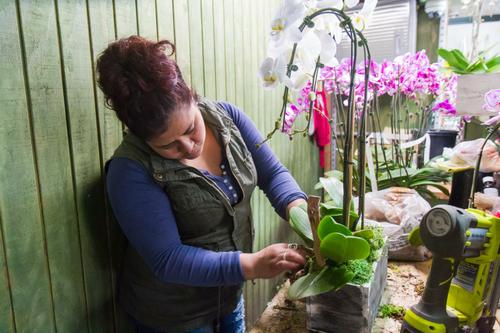 El Poblano Flowers
After browsing through the numerous vendor stalls in the California Flower Mall, we stumbled upon a shop with an appearance straight out of a mythic tale. Bathed in blue light with crystals hanging off a flower arch, El Poblano Flowers specializes in delivering grandeur to whatever event it works on, said Myrna Alba, the stall's vendor.
When I asked Alba for a breakdown of the company's best-selling products, she took us behind the crystal-beaded entrance and walked us through the whole inventory. The arrangement designs are made primarily by her husband, Angel Alba. El Poblano's specialty is not in wholesale but in offering smaller, more unique arrangements for customers, Myrna Alba said.
The Albas became involved with the flower business eight years ago through family connections, but did not have the California Flower Mall stall until about a year ago when Angel Alba took over his late brother's flower shop.
"He found this empty space and decided to jump on the opportunity ... to start making his own unique floral designs," Myrna Alba said.
Diverging from the usual bouquets and wood basket centerpieces of the other stalls, El Poblano's signature product is its topiary, featuring the trunk of a miniature grapevine with a bush of a dozen crimson roses pinned to the top.
In addition to the topiary, El Poblano has a host of other specialized pieces that incorporate foliage and flowers to create complex arrangements. For instance, several of the arrangements make use of unconventional accessories like tea leaves, Casablanca lilies or colorful heads of cabbage to create striking pieces.
Beyond offering a variety of unique floral arrangements, El Poblano places a large emphasis on party rentals. Since flower arrangements often go hand in hand with big life events, Myrna has options for renting out flower arches – like the beaded one that greets customers – and extravagant thrones for quinceaneras or weddings.
"We love offering other options to our customers beyond the flowers," Myrna said. "It is a big day for them usually, and we want to offer them the best services we have."