A Grandfather's Legacy: Saffron and Rose Ice Cream owners carry on tradition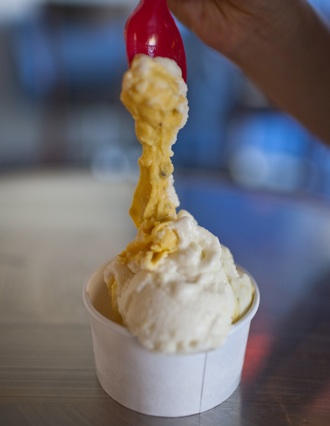 Just about a block or two south of Wilshire a line forms out the door of a small shop. Inside, customers are greeted by cool air and the familiar, sweet smell of ice cream.
"That's the best seller," Fred Papen said, pointing to the pastel green-colored Saffron Pistachio ice cream in the display case.He carefully scoops out a small sample with a plastic spoon and gives it to a customer, something he has done since he was about 5 years old.
He switches between English and Farsi throughout the night, serving customers who know the shop well and introducing the flavors to curious newcomers. Up until three years ago, his late grandfather's voice would energize this popular Persian ice cream shop on Westwood Boulevard.
Haji Ali Kashani-Rafye isn't around anymore, but his picture decorates the white containers of Saffron & Rose Ice Cream – a tribute to the man who built the business with his honesty, charismatic personality and broken English.
"My grandfather was so old, yet he connected with everyone – all ages, all races," Papen said. "Even people that didn't understand his English very well – he still connected with them."
Coming to America
Kashani-Rafye immigrated to California from Iran in 1974 to be closer to his son, who was studying in the U.S. and wanted to settle down in the country.
He used his father's secret saffron ice cream and rose ice cream recipes to open a small grocery and ice cream shop in Santa Monica.
After changing locations a few times over the years, Kashani-Rafye settled down in the heart of Little Persia, a small enclave of Persian businesses that overlaps with Westwood.
Kashani-Rafye decided to open an ice cream shop in a more accessible location as word of his ice cream spread.
Unsure of what to name the place, his grandson suggested it seemed fitting to name it after his two most popular flavors: saffron and rose.
Saffron ice cream, bright yellow in color, is bittersweet. Rose ice cream on the other hand, is white, smells like rose water and has chunks of high quality cream called "khameh" incorporated into the authentic Persian ice cream.
"When it comes to cold desserts (in Persia), those two pretty much take the cake," Papen said.
Saffron & Rose Ice Cream is now one of the biggest brands of Persian ice cream in the United States and sold nationwide.
Persian ice cream stands apart from its American and Italian counterparts with its use of whole milk. American ice cream is made from powdered milk and gelato uses both milk and water.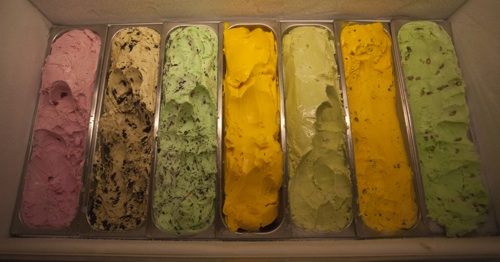 "If you take a spoon (of Persian ice cream) and pull it from a cup, it would behave like melted cheese," Papen said. "It stretches instead of breaking up." Kashani-Rafye spent almost 40 years working in his shop after immigrating to the United States, trying to perfect his secret ice cream recipes.
He died in 2010 after having a heart attack, leaving the business in his family's hands.
Though it was hard to come to terms with her father's sudden death, Fery Kashani said she and her brother felt comfortable taking charge because of the support they got from the community.
Hundreds of people attended Kashani-Rafye's funeral and memorial ceremony. Now, three years later, people still come by the shop and talk about how they miss Kashani-Rafye. It happens multiple times every day, Papen said.
As Kashani and Papen sat outside Saffron & Rose to discuss the business' history on a chilly September night, they occasionally paused to greet their regular customers as if they were longtime friends.
Caren Avedon, a Westwood resident, visits the shop a couple of times a week, sometimes bringing her sister along with her.
Avedon, 54, first discovered the ice cream shop when she was at a wine tasting on a patio nearby.
Although she moved out of the area soon after, Avedon rediscovered the shop while visiting a nearby restaurant last year after moving back. She went inside to have some ice cream for dessert, remembering the nice man with an infectious laugh who had served her ice cream a year before.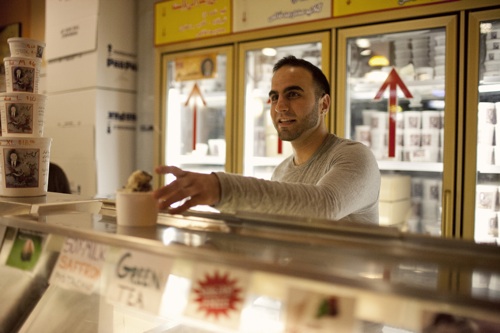 "It's just like you see it right now – how it's all family. People from every walk of life come here and they are just happy," Avedon said.
Children, students, professionals and retirees stopped by to get ice cream on one busy Friday night. Papen would often make flavor suggestions to newcomers.
"(Papen) gave me a dark chocolate chip with orange blossom ice cream and that was it – I was hooked for life," Avedon said.
Customers keep coming back to Saffron & Rose, not only because of the good ice cream, but because of the legacy that Kashani-Rafye left behind.
"He just left a good name behind him. In our community, everybody knows (of) him," Kashani said. "And I am so proud and happy that people like us, they know us."
Growing up in the shop
Papen remembers his secret handshake with his grandfather. After an elaborate combination of fist bumps, they would end by touching their thumbs together in the form of a thumbs-up.
From wrestling and secret handshakes to learning life lessons, Papen spent as much time as possible with his grandfather when he was younger.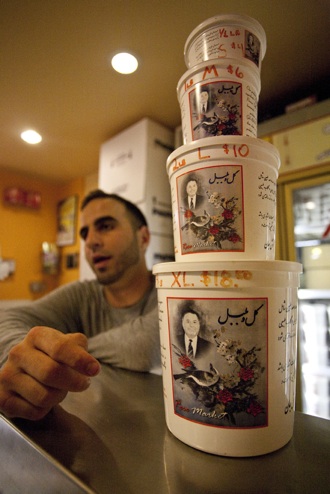 He grew up around his grandfather's ice cream shop, pretending to serve customers under his grandfather's supervision.
Kashani-Rafye adored Papen and tried to involve him in the family business early on. When he was 10 years old, Papen took on small tasks like cleaning windows.
Little by little, he started getting more involved.
"One day turned into two days, three days, more hours," Kashani said.
In high school, Papen would stop by after class to help clean up and stock the shelves.
He got his first job at the shop when he was 19-years-old, driving ice cream across Southern California in a Ford cargo van.
Papen didn't really consider working at Saffron & Rose until he experienced what it was like to work for other businesses.
Taking a few years off from attending California State University, Northridge, he worked odd jobs – at a local restaurant in Westwood, at a golf course and as an after-school coach at Culver City Middle School.
"I realized it's not much of an investment. I work twelve hours a day, I get a paycheck and that's it," he said. "I can get fired tomorrow and that's it for me." And so he decided to get more involved with Saffron & Rose, where he could do more than just clock in and out.
The next generation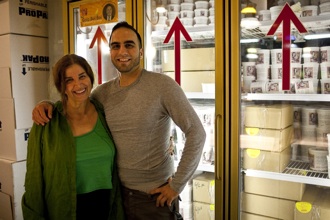 Even though he's the newest addition to the Saffron & Rose management, Kashani said her son's insight is valuable.
Kashani oversees the managerial aspects of the business, while her brother Mike Kash is responsible for product development and distribution. The family didn't do much marketing early on – business grew through word of mouth, Kash said.
Papen, however, wants to take a new approach by focusing on branding and advertising.
Running a family business does have its challenges, Kashani said.
"She's my mom and my boss, so we'll argue about ice cream (as work) and then when we go home, we'll argue about whatever," Papen said. "You can never get away from it."
He constantly tries to apply the lessons he learned from his grandfather to his day-to-day work at Saffron & Rose.
Sometimes, Papen will give a child free ice cream or offer samples to customers, just like his grandfather used to.
"Watching him, I realized how effective it is to give someone something, even if it costs a dollar. It just causes good karma and vibes to go around," Papen said, as he pointed to his grandfather's portrait on the shop's window.
That sense of community, he said, is why Saffron & Rose is so special to him.
"I see it as something that will help me financially grow in the future, " Papen said. "But more importantly, I see it like a continuation of my grandfather and what he left behind."
Kashani looked at her son and nodded in agreement.
"Yes. … We're keeping his name alive, that's the most important thing for us," Kashani added.