Mural, Mural on the Wall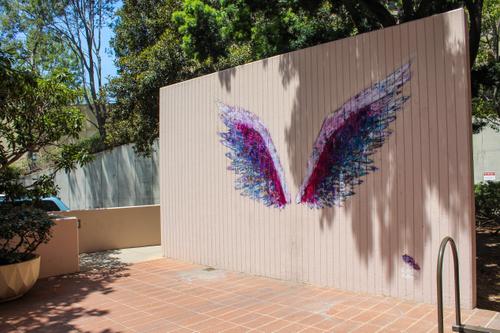 Los Angeles, I'm just trying to figure you out.
When I moved to Los Angeles for college, people told me this city has a different culture, even compared to other places on the West Coast. I've found that LA does have its own way of living life, full of quinoa, Lululemon and street murals.
Now, the brunch thing I can get behind. But in a culture of wall art selfies, I'm still grappling with the idea that our appreciation for artwork in Los Angeles has become reduced to how Instagrammable it is.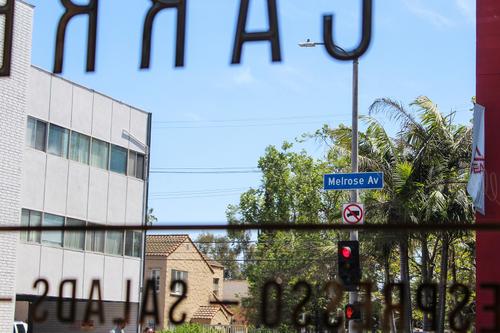 You already know the most famous Los Angeles wall, the Paul Smith pink wall on Melrose Avenue. Paul Smith Los Angeles, a designer clothing store, opened in 2005 with its outer walls painted pink in order to attract people driving by. Now, it lures thirsty millennials who wait in line in a parking lot to use it as a photoshoot backdrop for a trendy Instagram post.
#Pinkwall has more than 48,000 tags on Instagram, and though not all of those are the Paul Smith wall, a good portion of them are. This quarter, I drove to Melrose Avenue to check out the pink wall for the first time in my three years at UCLA. A security attendant had a booth in the Paul Smith parking lot and said no professional cameras were allowed.
On a sunny afternoon, tourists squinted in line, waiting for other people to finish their mini photoshoots because of the limited space against the wall. To get a little more creative, one woman reclined on the hood of her Jeep while a man snapped photos of her with the wall in the background. Tourists and locals come, wait in line, immediately turn their backs on the art, put on an extra wide smile and then check their phone to evaluate the photos. It's a desperate assembly line; everyone wants the photos of the art, but no one really looks at it. It's analogous to looking and not seeing – photographing and not experiencing.
We've heard this all before, but Los Angeles seems more seeped in this culture. The "do it for the 'gram" slogan encourages me to make once-in-a-lifetime memories like skydiving or trying escargots, but also makes me feel like I'm ignoring my surroundings to capture an artificial moment for the sake of participating in a social media trend.
---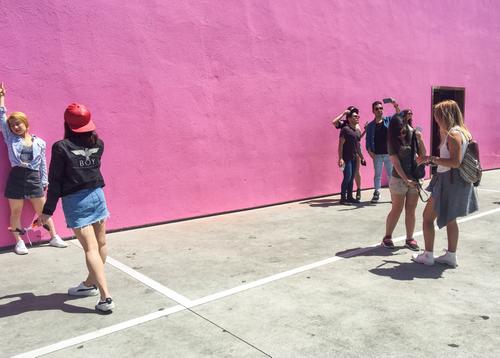 During fall quarter, Carly Pierson was driving down Melrose Avenue to get her computer fixed when she and her dad passed by the pink wall.
"That's the famous wall!" she said to her dad.
They dropped off her computer and decided to go take pictures.
"He's, like, super LA," Pierson told me. "He knew about it, too."
Pierson was wearing pajamas at first but she had some laundry in the car, so the third-year microbiology, immunology and molecular genetics student changed outfits.
Using an iPhone, Pierson's dad took photos of her and they took selfies together. As a photographer, her dad was excited for the backdrop and helped Pierson prep her hair.
Pierson put her leg on the wall for some imaginative shots, but she said the parking lot guards yelled at her to stop. She ended up posting a semi-candid photo on her Instagram.
Pierson said the wall is a popular tourist destination for her out-of-state and international friends, and murals are also popular for their impact on social media.
"When I'm scrolling through Instagram, I'll notice those pink walls," she said. "Those are the ones that will catch my attention."
Growing up in Thousand Oaks, California, she said mural art wasn't as trendy as it is now that she attends UCLA. She has made friends from Wisconsin, Texas and Connecticut, and they like traveling to Abbot Kinney Boulevard for the murals. They take a new picture and post it on Instagram, but they also make a day out of the trip to Venice, she said.
"It's a weird thing to think about that in earlier times, before social media, the only people who would do that would be photographers," Pierson said. Jayne Skinner posted a photo of the pink wall on Facebook as her profile picture. The fourth-year psychobiology student traveled to the mural earlier this year with the cast of "Waitress in Concert," a show put on by Positivity Productions on campus in March.
"It was originally taken for the show, but I thought it was a good picture and it's fun to have the pink wall as your profile picture, so I just kept it up after," she said.
The performers elected to go early one morning to avoid crowds and have enough wall space to themselves for the photoshoot.
Skinner said they chose the backdrop because it is an iconic LA location. The UCLA students wanted to use it for posters and social media advertisement for their musical about a waitress in a southern town who becomes pregnant unexpectedly.
"It's very bright and vibrant, so it's obviously an ideal place to take pictures," she said. "But I also think that it's become a landmark in its own right. It's not just because the wall is pink – it's because it's 'The Pink Wall.'"
---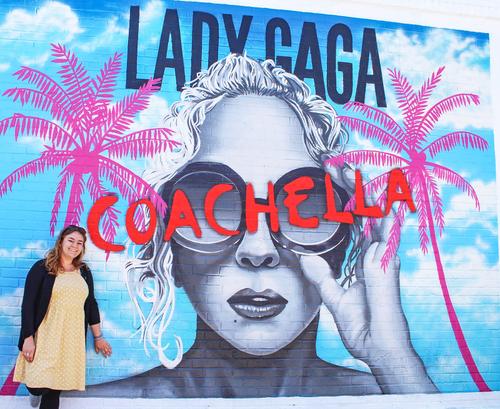 After snapping selfies in front of the Melrose pink wall, my friend and I crossed the street to Carrera Cafe, which also has a wall mural on the side of its building. The painting has changed from lip prints, to the "La La Land" purple backdrop, to Lady Gaga's Coachella logo. I went during Coachella season and was greeted by a black-and-white portrait of Lady Gaga surrounded by blue sky and purple palm trees with "Coachella" blazoned across her face.
My friend and I snapped some photos there, which I later posted on my own Instagram account. The outdoor cafe tables were pushed out of the way to create an optimal photo op.
One woman leaned against the Coachella mural wearing a lace shirt, beige pants, sandals, sunglasses and red lipstick. She flipped her hair back in the bright sun.
We went inside the glass cafe and people-watched for an hour. Customers came in wearing trench coats, denim dresses, backpack purses, big sunglasses, pink shirts, studded boots, beige blazers and Converse sneakers.
"It's such a type of people that come," my friend whispered to me.
Half of the people in the cafe could have been Abercrombie models with their Levi's jackets, gold chokers and blue-and-white striped blouses. People came in and out of the coffee shop, which had black and white tiled floors and little succulents on white tables. The words "Ciao Bella" were lit up in white on the cafe wall.
We had a view across the street of people posing like "Charlie's Angels" against the pink wall.
People continued to wait in line to take pictures with the walls, but no one stood to really look at the art. It's all just for digital display. The paintings aren't meant to be seen with eyes, but through a screen.
Inside Carrera Cafe, a teenage girl stood above a table with her rose gold iPhone and snapped overhead photos of four lattes with foam artwork that included a flamingo and the word "hello."
Another young woman handed her phone to her friend; her camera roll was open so the friend could look through photos to pick the most Instagram-worthy one.
Meanwhile, a middle-aged woman silently read the newspaper with her cup of coffee in the corner. Everyone else had some cucumber Chobani whatever drink, vinaigrette salad or iced coffee, their cameras snapping away.
"The coffee's not that good," I said.
"That's not why people come," my friend laughed.
Most perplexing were two teenage girls with a pink polaroid and a blue clutch wallet; they rotated tables inside the cafe looking for the best lighting and poses. A woman – likely their mother – came with them as if chaperoning an exciting school field trip.
"The lighting is so good!" "Oh I love that!" "That's so cute!" "Thank you so much," they giggled to each other.
The ice was melting in their cinnamon-topped lattes. But that's not why people come.
Sure it's fun to be "bougie" and take pink wall photos and drink coffee next to succulents, but I always feel like I'm faking it. I'm running through the motions of participating in this LA culture, but I never feel like I'm the originator – always the emulator.
Is there a real originator of LA culture? Does anyone do it solely for the pleasure or is everyone doing it to mimic other photos they've seen?
It's a trend or a fad in the most reductive sense. It's an item to check off a list. We drive to go see a pink wall in order to get the photos to prove we did it.
---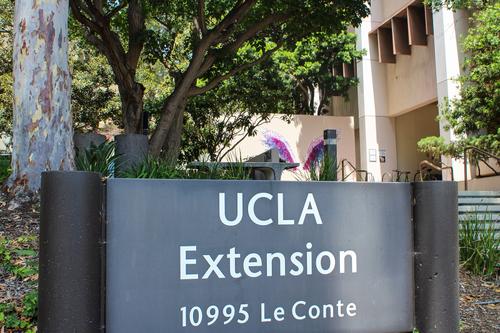 A mural on the UCLA Extension building is trying to send a bigger message than a shallow Instagram post.
On Le Conte Avenue in Westwood, Los Angeles artist Colette Miller added a pair of purple wings to the building facade in November. UCLA Extension officials asked Miller to paint the wings to inspire students to have a passion for lifelong learning.
Miller studied film at UCLA Extension in 2000 and began the Global Angel Wings Project in Los Angeles in 2012 to remind people that humans are angels on Earth. She estimates she has painted more than 100 angel wings around the world in places such as France, Cuba, Kenya, New York City and Washington, D.C.
"I thought if you were in some dark alley or some crossroads in your decision and your consciousness, wouldn't you like to be reminded of the goodness in humanity?" Miller said. "And that's where the wings technically birthed."
When she painted her first pair of wings in downtown LA, she didn't even have an Instagram. She didn't always sign the murals. The intention was to give the world a reminder of mankind's angelic qualities. Now, Miller said sharing the photos on social media enhances the message, since it spreads the meaning across the internet.
"It came from a really sincere place, really pure and childlike, ... of putting this image out there that I feel is really a divinity," she said. "But I wasn't trying to be hashtags."
Miller avoids putting hashtags on her paintings because they clutter the image, turning it into an advertisement and detracting from the pure message of the artwork. Sometimes plaques next to the wings will describe the Global Angel Wings Project, sponsorships and hashtags, she said. #Colettemiller has about 12,000 tags on Instagram.
Sometimes Miller travels to the locations and sometimes she ships the artwork to its destination, like her with upcoming Tokyo piece. She added a pair of wings to the Chicago airport, and since the wall was after the security checkpoint, she had to be escorted by security guards with her tools and knives to the location.
Each pair has slightly different textures, colors and shapes, similar to how no two people are identical, she said. Miller gets lost in the work. For Miller, the wings represent a positive message of peace and divinity, but I noticed that they also demonstrate the principle of using fine art to post photos online.
Social media users make digital copies of Los Angeles murals and post them on the internet for mass consumption. Perhaps this is the new way art is appreciated, more so than in museums. But I wonder if this is fully consuming and digesting a piece of art – unwrapping it and letting it sit on your tongue before swallowing.
Our culture is viral – akin to a disease.
"Is it even adding to your life?" my friend asked me about the pink wall. "You put it on social media, and then what?"
It's entertaining to visit the famous walls of Los Angeles, but putting it on my social media should not be fulfilling. It's hollow unless I truly appreciate the artist's meaning, like the angel wings symbolizing divinity.
Our lifestyle is about constructing false memories that never existed because we were too busy trying to capture them. LA culture only exists online, but I want to live in the real world.