East Coast Chills, West Coast Thrills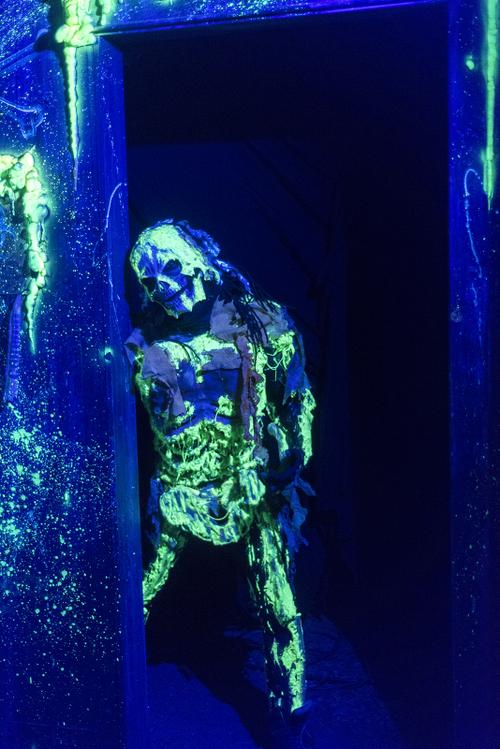 Think pumpkin spice lattes. Think expensive tickets to Halloween Horror Nights and the unoriginal costumes that populate frat row in October – that's probably the Halloween aesthetic a student in Los Angeles has been conditioned to expect.
Now, picture real pumpkins. Imagine the aromas of hot apple cider and freshly baked pie drifting through a chilly autumn evening, blending in with the smell of hay on a dusty farm. Think corn mazes, hayrides and homegrown haunts in the driveways of rustic mansions – that's what an authentic Halloween experience is to me.
Based on elaborate costume parties, theme-park attractions and professional, high-budget haunted houses run by film studios, the typical Halloween in Los Angeles has always seemed glossy to me.
But growing up in Connecticut, I spent my Halloween days outdoors in orchards, cornfields and pumpkin patches. My nights were spent visiting makeshift haunted mazes with homemade props set up in actual forests. To me, the holiday represents a time for the community to experience a frightening atmosphere, not only in haunted houses but also through the anticipation surrounding Halloween.
New England's natural setting lends to a spookier autumn. In smaller towns with colonial histories, vintage homes are scattered in and around acres of scarlet forest. A thick layer of mist blankets the ground in the mornings, blocking all visibility. Occasionally, you'll hear a wolf's howl in the distance – being on the East Coast in the month of October felt like being thrown into a horror movie.
Though I obviously can't blame Angelenos for this difference, being surrounded by palm trees, soaked in sunshine and blessed with views of the beach doesn't really match up to watching the leaves turn orange and fall off the trees.
Ty Botts said Halloween is a family- and neighbor-oriented occasion in his Pennsylvanian hometown. The second-year pre-business economics student said one of the town's big Halloween attractions is a parade going down Main Street that scatters candy for the children.
Margit Maple, a second-year civil engineering student, used to pick pumpkins from a patch, carve them and then bake the seeds when she was growing up in Maryland.
During her first year as a student at UCLA, Maple bought pumpkins from a store and painted faces on them. However this year, Maple hopes to convince her roommates to go to a pumpkin patch and actually carve jack-o'-lanterns.
This October, I also committed to recapturing the traditional East Coast flavor with seasonal activities in Los Angeles.
I learned about Tapia Bros. Farm, an family-owned estate in Encino, California, and decided to give it a try. With a pumpkin patch, a corn maze, a petting zoo and hayrides, the venue seemed to offer the essentials of East Coast Halloween nostalgia.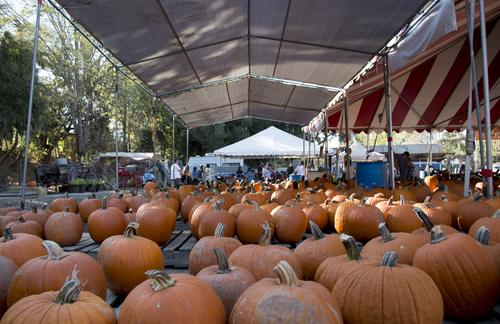 I arrived at the farm's pumpkin patch, only to realize that it wasn't actually a pumpkin patch at all: Rows of pumpkins were layered over what felt like a parking lot with dirt poured over it. Instead of growing on vines embedded in the soil, the fruits had been prepicked and laid out for customers to simply pick up and check out, depriving me of the experience of cutting the pumpkins off their vines and hauling them out of the patch in a creaky old wagon.
Despite its makeshift setup, the farm's miniature collection of farm animals and familiar smells of hay barrels and freshly roasted corn on the cob reminded me of my former home and warmed my heart.
Tapia Bros. Farm also provided more pumpkin varieties than I had ever seen together in one place. From the classic orange jack-o'-lantern and Cinderella pumpkins, to the more exotic looking gourds in shades of green, yellow, brown and white, the site sold an entire spectrum of pumpkins.
Confronted with both similarities and drastic differences from my East Coast experience, I decided the real test would be the corn maze across the street from the main farm.
I entered, map in hand, with a bottle of water to beat the heat – I'm used to 50-degree Octobers. Towering cornstalks seemed to stretch on, but with palm tree tops peeking out from the distance, it wasn't hard to remember that the maze was a shockingly small four acres.
As a kid at my local corn maze in Connecticut, I remember being faced with the legitimate fear of being trapped among the cornstalks overnight. Although the limitedness of the expanse and the sweltering heat were constant reminders that I was in Los Angeles, the experience was familiar enough for me to evoke East Coast nostalgia.
Part of the heightened eeriness in Connecticut around Halloween is because of its history. Second-year atmospheric, oceanic, and environmental sciences student Liesl Schleusener said the tradition and history behind Halloween in her home in North Carolina made the holiday feel far more authentic and spooky. Towns on the East Coast are often older, and the commonly told local Halloween tales create a more convincing haunted feeling.
Schleusener, whose family moved to California two years ago, also said Halloween in Los Angeles lacks the buildup it has back east. She noticed Angelenos observe the holiday the day of, but folks in her hometown begin getting into the spirit of fall weeks before Oct. 31.
When I saw the spider webs and Styrofoam gravestones go up in front yards, I knew my favorite time of the year was around the corner. It was my cue to immediately purchase tickets to haunted houses, both the low-budget ones in the basement of our local middle school and the more professional ones that took place in forests or farms.
This year, I went to the Los Angeles Haunted Hayride, a collection of mazes set within the hills of Griffith Park. I chose this venue because of its natural setting, which provides the element of unpredictability unlike most Los Angeles haunted mazes that take place in Hollywood studios or theme parks.
Stepping into a clearing between the woods at the hayride, I was surrounded by clouds of fog which spewed from the many fog machines scattered around the venue and accurately recreated the forest haze of South Windsor, Connecticut. Hundreds of jack-o'-lanterns, many of which were stacked up in an impressive tower, illuminated the whole site in an orange glow, giving the trees a hellish aura.
Shortly after arriving, I sat down on barrels of hay to drink hot cider and crunch on caramel apples, flavors that instantly brought back memories of picking baskets of my own apples and turning them into applesauce. Occasionally, I would get startled by the killer clowns roaming the vicinity and pose with some of them for photos.
Finally, I boarded the hayride, which took me through around 20 different scare zones, each with different themes and monsters, including a circus-themed area with clowns and a graveyard setting with zombies. In addition to the main hayride attraction, the venue offered two other mazes: a Halloween village with multiple "haunted" homes, and a pitch-black maze with strobe lights that made the walls seem like they were slowly closing in on the participant.
Leaving the Haunted Hayride, I realized that this fall has been one of the most fulfilling one in years. When I left Connecticut, I was spooked by the thought that I might never experience a "real" fall again. But being in Los Angeles didn't stop me from recreating Halloween the way I like it.
Maybe I can accept palm trees instead of frightening forests for Halloween after all.