Receiving the Call: Former UCLA player Kevin Jordan finds new mission
A group of about 30 UCLA student-athletes sits neatly on prearranged rows of chairs in a room in Pauley Pavilion. All eyes look ahead at football alumnus Kevin Jordan, who takes center stage.
Ephesians 2 is the topic for tonight's meeting. It's a part of the Bible that Jordan keeps close to his heart. In particular, verses eight through 10 – those were a few of the verses he first memorized as a young believer.
He gives a handout containing an interpretation of GRACE – God's Riches At Christ's Expense – and the gift of salvation, the same handout he received as a freshman at UCLA.
"I became a new man," he says to the crowd of athletes, concluding his explanation on how the spiritual growth of his first year at UCLA changed him.
He looks into a crowd full of familiar faces that recognize how he and his wife, Jenny Johnson Jordan, have impacted UCLA Athletics through their roles as chaplains and life mentors.
A new man
Kevin Jordan entered UCLA as a freshman in 1991 to play football and earn a degree. He graduated with a degree in sociology as an All-American and a UCLA career receiving yards and career receptions record breaker. He also left UCLA a better man.
He owed the latter to his mentor and football chaplain, Rod Hairston.
"Football was important, school was important, but balance was important for me and also my spiritual life," Jordan said. "I really wanted to take some next steps and develop myself holistically, and our chaplain made himself available."
As the team chaplain, Hairston would lead optional chapels for the football team. At the same time, he became Jordan's guide through the unfamiliar world of college. Once a week, before practice, the two would sit inside an empty Pauley Pavilion to talk.
The topic was life; it could be about things that were going on at home or even about Jordan's frustrations on the football field. Whatever the issue, Hairston would listen.
He wasn't a coach determined to get the best out of a player. He wasn't a teammate who wanted to work together to get the "W." He was a sympathetic ear whenever there were problems – he was a friend.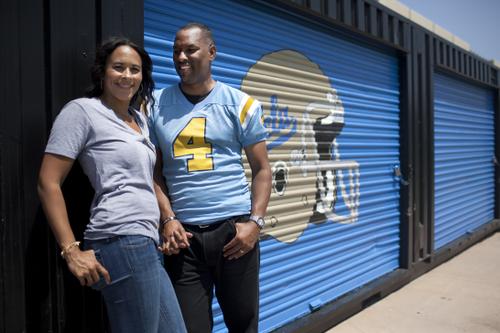 "I knew that he was there to love me, to listen to me, to pray for me and to encourage me through my life," Jordan said. "So that was really what got (me and my wife) started on this journey – the impact that people had in our lives as student athletes."
Around the time of Jordan's regular meetings with Hairston, there was a UCLA freshman volleyball player Jordan would often cross paths with. She lived in a nearby dormitory. They also had a class together. They even wore the same jersey numbers. But they never really knew each other at that point. That player was Jenny Johnson.
When they finally met a year later in 1992, it was through mutual friends. It didn't take long for them to bond over what they shared in common, including Johnson having a spiritual and life mentor of her own in Natalie Nuce.
Their shared experience of having someone guide them spiritually would bring them together not only in marriage but also in an effort to continue the tradition of mentoring student athletes.
"The bottom line is I knew how much my life changed as a result of someone like myself being on campus, available for me to just share my life with," Jordan said.
So they took the baton that Hairston and Nuce passed and ran with it.
A home of their own
Jordan and Johnson Jordan never really left UCLA. Even after graduation, the duo would always come back to Westwood to visit old teammates and establish new relationships.
But at a certain point in their athletic careers, it was time for them to move on from Pauley Pavilion and the Rose Bowl.
Johnson Jordan traded the indoor courts for warm sand, making the transition from collegiate volleyball player to professional beach volleyball player.
Jordan, on the other hand, made his way up to the big leagues of football, signing with the Arizona Cardinals as an undrafted free agent. After half a season with the Cardinals and another half with the Cincinnati Bengals, Jordan found himself trying out for a third team, the Denver Broncos.
But after a training camp where he struggled with injury and ended up not making the cut, the newlyweds, who married during the 1997 offseason, decided to settle down in Los Angeles and focus on her dreams of going to the Olympics for beach volleyball.
"And so (it was) just like 'you know what, be here in LA, this will be our base. You do what you do, and I'm here to support you,'" Jordan said.
With that, Jordan moved to their house in Los Angeles full time, no longer needing to be absent for months to travel with professional football teams.
One day while visiting UCLA, Jordan found the call he was looking for to the next chapter of his life.
When Hairston made the decision to move to a different ministry in 1998, Jordan's experience made it seem like he was the natural person to step in and take Hairston's place.
When a former teammate reached out to him with the idea, it only took one session for Jordan to commit.
"Just being in that room that night, it was like a light bulb went off. I said 'This is it; this is what I want to do," he said.
Trip East
Ten years into Jordan's career as a chaplain for the UCLA football team, a different opportunity came.
Former UCLA football coach Karl Dorrell was released from the program. Since Jordan's position as chaplain was independent of UCLA Athletics and the team's leadership was changing, Jordan's position was no longer guaranteed. Then he received a call from the professional director of Athletes in Action, the athletic branch of Cru, with an offer to once again work in the NFL.
Pittsburgh Steelers coach Mike Tomlin had a vision for his team. He wasn't just looking for a team chaplain, he was looking for a family to integrate into the organization. That family would render spiritual services to players and coaches and also offer the same to significant others and children.
After initially wrestling with the decision to move on to new horizons, Jordan and Johnson Jordan decided to make the move to the Western Pennsylvania.
"It was a big faith decision for us to uproot after being in Southern California for so many years," Jordan said. "But we really felt like in a strange way, this was a call for us to step out in faith and to go and serve in this particular role."
The new experience came with new duties. Jordan would have to be a figure present in the locker room and at the sidelines. He would also hold Bible studies for the players and coaches. Meanwhile, Johnson Jordan would hold studies for the players' and coaches' wives and girlfriends. They'd even work together to conduct couple studies.
"I felt like, because we had that background of professional sports, we could obviously relate to them in some degree," Johnson Jordan said.
The new experience with the Steelers was enough to entice them to stay a year more than they had initially committed. But at the end of the day, even with two trips to the Super Bowl, they wanted to come back to Westwood.
The process of returning to Los Angeles started with Cori Close's hiring as coach of the UCLA women's basketball team.
"When I had my press conference here, Jenny's (Johnson Jordan) father, UCLA alumnus Rafer Johnson, was there," Close said. "And he came right up to me after the press conference and says 'Okay, now you have a job to do. Now you have to help me get Jenny back here to LA. ... I miss my grandbabies.'"
Close, who had known Johnson Jordan since their days of regular Tuesday lunches in 1994 and 1995, was able to convince Johnson Jordan to come back to the West Coast.
Coming Home
It was the same UCLA, but this time was different.
The four years Jordan and Johnson Jordan spent in Pittsburgh meant that almost all the student-athletes the couple had built relationships with before coming back in 2012 had already graduated.
They had to begin the slow process of getting to know a new generation of student-athletes once again. This time, they would serve the community as the 4TheJourney ministry, a donation-run ministry named after the number the couple shared on the back of their jerseys during their UCLA athletic careers.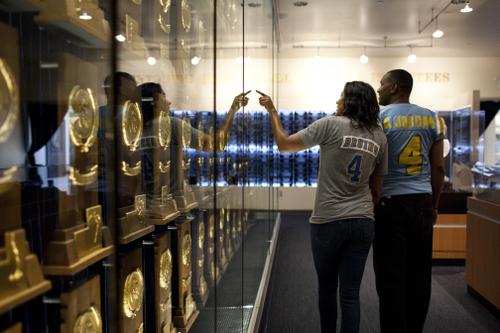 They started anew, as the women's basketball chaplains. It was an opportunity that gave them a foot into the door of the lives of student-athletes.
"These kinds of opportunities just gave us more opportunities to get to know the student-athletes of today," Jordan said. "Where I can see one of the girls walking around, I know who she is, I know her name and they know what we do on campus."
From Close's perspective, working with Jordan and Johnson Jordan was the right answer to giving her players a valuable resource that she had access to when she was a student-athlete. She wanted her players to have the option of talking to what she calls a "trustworthy, wise outside source that they could really lean on."
When tragedy struck the UCLA Athletics community in September 2013 with the untimely passing of former football wide receiver Nick Pasquale, Close recommended Jordan to UCLA football coach Jim Mora. Jordan once again took on the role of spiritual leader of UCLA football.
"They needed someone who was close enough to the guys, that looked like the guys, that could relate to the guys, in their time of need," Close said. "I told Coach Mora about Kevin and how Kevin's one of their own – I mean, he's a UCLA football guy."
"Both Jenny and Kevin were Bruins, so they know the culture of this school, (the athletes) know they know dorm life, (the athletes) know they know the cafeteria, (the athletes) know they know all the ins and outs around here and have seen the change," said Mike Buchanan, who works with Athletes in Action.
"That gives them a pretty good platform around here, and a lot of the coaches have a lot of respect for them too and that's opened a lot of doors to help them do what they've been called to."
The new generation
Now, a year and a half removed from Jordan and Johnson Jordan's return to UCLA, the 4TheJourney ministry has become an integral part of the UCLA athletic community.
Two years ago, Jordan and Johnson Jordan formed a relationship with junior guard Madeline Brooks as team chaplains but, after working together for two seasons, her relationship with the couple has developed into something much more than what it started off as.
Now Jordan is scheduled to officiate the wedding between Brooks and her fiance, sophomore pitcher Cody Poteet.
"He has a younger daughter. In the way he treats his daughter, he just respects her and cares for her in a very special way," Brooks said. "He does that in a similar light to us."
Every day they continue to work toward impacting a new generation of athletes the same way their mentors once did them.
"They're not overly bearing about Bible, Bible. You can really relate to them too and they're really easy to talk to about any situation, even about relationships or about your sport, because they both were athletes here too so they get it," said women's soccer junior defender Caprice Dydasco, who sought advice on juggling a busy student-athlete life from the couple not long ago.
Though they still don't officially hold a position in UCLA Athletics, or even have an office, Jordan and Johnson Jordan's "ministry of presence" can still regularly be seen around Westwood, whether it's at games, practices or even just outside the Acosta Athletic Complex, having a chat with student-athletes.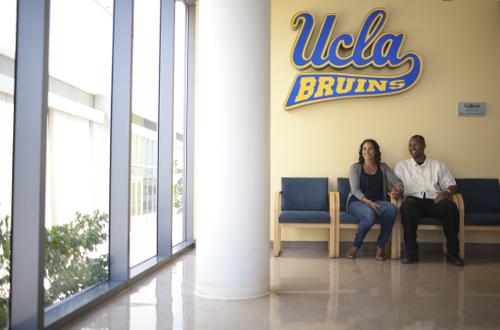 The figurative doors to the 4TheJourney ministry are always open for any athletes who may need someone to counsel them. It doesn't matter if what they want to talk about is spiritual or personal.
As he steps into Acosta, Jordan jokes that this would be the place for a hypothetical office if he had one – it's where the foot traffic is, he says.
"Whether you're a star player or you ride the bench doesn't matter, we're going to build a relationship with you and come alongside you," Jordan said.
They're taking the UCLA student-athletes along for the rest of their journey.