Point of Interest: Integrating acupuncture treatments, western medicine
A small red lampshade covers a single bulb, its light softening the sterile white paint of the small treatment room I'm sitting in. A woman in a white lab coat slips through the doorway and sits in a swivel chair, scooting herself closer to me as I prepare to ask my first set of questions.
Starrie Lowe, who has been the acupuncturist at UCLA's Arthur Ashe Student Health and Wellness Center for two years, is comfortable with getting up close and personal. Her career involves breaking through both bare skin and inhibition in an attempt to heal every kind of ache and pain. Lowe is a third generation acupuncturist, carrying on the traditions of what she calls a path toward health.
---
Acupuncture is based on the belief that humans have within them a map of energy pathways. The energy, or chi, responds to a needle that causes physiological shifts within the body, Lowe explained. For instance, the shifts can ease the swelling and pain of a sprained ankle or reduce stress.
There are also certain organs – such as the heart, liver and lungs – that are associated with negative emotions being out of balance.
She pulled out a piece of paper with an outline of a human body filled with branching lines and rivers of color from head to foot. It represented the flow of energy and showed the location of important needle points.
"I see the body as a canvas," Lowe said.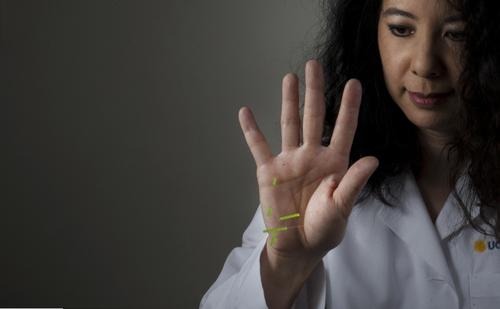 She added that acupuncture is much more than just the needles. It is also about encouraging patients to improve their individual lifestyles.
"I always welcome any questions my patients have. I have thousands of years of ancient medicine and storytelling for support," Lowe said.
---
Lowe always knew she was going to be an acupuncturist.
Her mother and grandfather owned an acupuncture practice and she said the children in the family grew up with the understanding that this kind of medicine is a way of life.
When they got sick as children, they were given herbal teas and ginger cabbage soup instead of medications to chase their fevers away. There were always acupuncture tools lying around the house and she said that, even at a young age, she enjoyed getting acupuncture from her family.
"For me, it was as natural as breathing. I felt connected to my culture and heritage, which is still a reason why I am inspired by this career today," Lowe said.
She volunteered in hospitals as a student because she said she always wanted to see how she could integrate Eastern medicine into a Western setting. Lowe finished the four-year program at Emperor's College in Los Angeles in 1997, earning her degree as a licensed acupuncturist. A few years later, she began supervising acupuncture interns at the Ashe Center and eventually became the official staff acupuncturist.
Dr. David Baron, the executive director of the Ashe Center, said acupuncture was introduced at the center in response to student requests. Doctors also suggested offering the treatment because they wanted to suggest it as an additional treatment for their patients, he said. He added that the validity and usefulness of acupuncture was scrutinized just as any other Western treatment would be before being offered to students.
Baron said in his own experience as a physician, he has noticed a gradual trend toward mainstreaming Eastern medicine and a greater acceptance of the methods because people are becoming more frustrated with Western medicine.
Doctors who practice Western medicine have been subjected to many changes in the structure of the health care system that strain their relationship with the patient, Baron said.
"You might see the doctor for maybe five minutes, and he doesn't even sit down but he gives you a prescription for your symptoms," Baron said. "You might be getting what you need to feel better, but you don't. You feel like you're in a factory."
Patients are allotted an hour of one-on-one contact with Lowe – an amount of individual attention that is rare in Western clinics.
Although students come into her office with physical sprains and aches, she said she finds that a broken spirit caused by emotional or mental stressors oftentimes contributes more to a person's poor health.
Lowe said she has found that many patients seek acupuncture at the Ashe Center for mental health issues such as depression and anxiety.
Although the actual acupuncture treatment only takes about 20 minutes, the appointment can naturally evolve into a session in which she listens to grievances about school and relationships.
She said that people tend to feel comfortable sharing private information with her, possibly because they feel like acupuncture's goal is to treat the whole person.
The consultation sessions before and after the treatment are equally or even more important because she advises the patient on how to improve his or her well-being on a very personalized basis, Lowe said.
Chris Rusak, a third-year art history student, said he tried acupuncture years before coming to UCLA because bad experiences with prescription medication made him want to try something more natural. Since then, he tries to get the treatment regularly to treat pain and increase his overall health.
He said he recently sprained his ankle and Lowe's acupuncture treatment immediately reduced the swelling and pain.
"I feel like a lot of doctors will give you medicine to treat one symptom, whereas acupuncture treats the body as a whole," Rusak said. "That makes more sense to me."
Lowe and other clinicians said that it is important to remember that acupuncture does not replace Western medicine but can complement a patient's health care experience.
"For example, if you have a strong migraine, it makes sense for you to take medication. But if these migraines are reoccuring, it might be because of neck spasms that can be eased by acupuncture," said Dr. Ka-Kit Hui, the director of the UCLA Center for East-West Medicine.
---
Toward the end of one of our interviews, Lowe stopped and said she had been answering too many questions, and now it was my turn. She asked how my health was doing.
Before I knew it, I had become one of her patients, confiding in her about my own anxieties and doubts.
She did not stick needles into my body, but somehow just the advice she gave me started to make me feel better.