A perfect day in LA: Around Downtown Los Angeles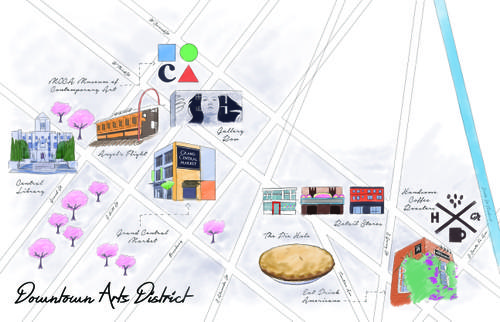 Enter the Arts District in downtown Los Angeles, where gritty industrial buildings meet contemporary craftsmanship in a creative hub that has maintained its artistic soul since the '80s. Loud art lines the streets of this ever-growing contemporary community, and an array of museums, boutiques, cafes and gourmet eateries can be found at every corner.
Start your day in the Arts District with a visit to Angels Flight Railway on Bunker Hill – an L.A. monument named "The Shortest Railway in the World." Next, pass through downtown Los Angeles' historic core, notice Central Library's stunning cathedral architecture. As you make your way around a plethora of murals in the district, follow the painted black hearts to The Pie Hole, where mouthwatering Mexican chocolate and Earl Grey tea pies await.
Just around the corner sit contemporary home goods stores – such as Poketo and Apolis – that will appeal to anyone with a love for stationary, crafts and decor. After you've cast a yearning gaze over the designs, head over to Eat.Drink.Americano, an affordable gastropub with industrial brick walls, plush couches and the best flatbreads in town. End your night in the Arts District ,browsing the installations at the Museum of Contemporary Art. Admission is free every Thursday from 5-8 p.m., so plan accordingly.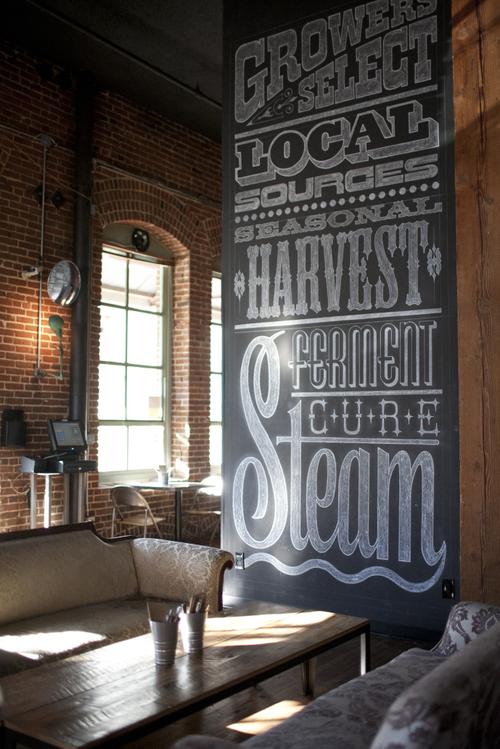 Walk past the artist murals into an old ivy-covered brick building, and you have entered Eat.Drink.Americano, a gastropub located in the heart of the Arts District.
The first thing you'll notice? The seamless combination of historic- meets-contemporary aesthetic that is reflective of the downtown spirit. High ceilings, wood beams and arched windows abound. The bar stools? Recycled. The communal tables? Made using reclaimed wood from just down the street. And the eye-catching chalkboard wall that hangs from ceiling to floor?
This is the work of artist Peter Greco, dubbed "Lord of the Letter" for his typography skills, who hand-finished the mural in no less than 10 weeks.
Mingling with guests and overseeing it all is restaurant owner Michael Burke, who founded Americano in 1998 alongside his partner, Angie.
"Greco's work is a reflection of everything Americano encompasses as a restaurant – our utilization of the skilled art community, our commitment to local artisans and craftsmakers, and our overarching appreciation for organic farm produce that is domestic and sustainable," Burke said.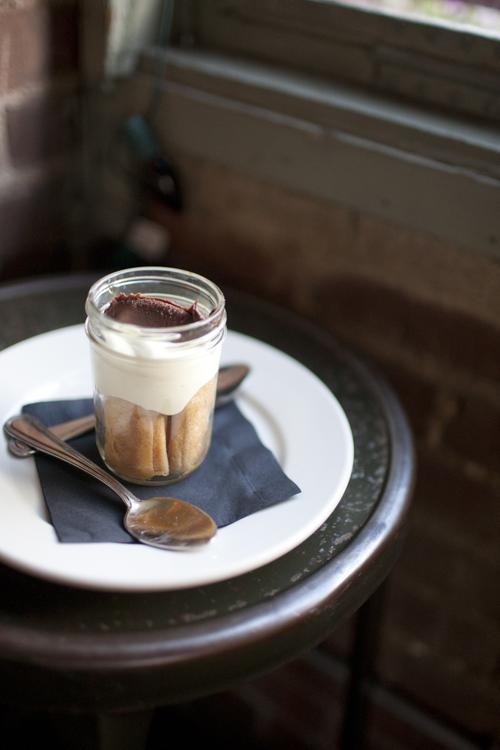 Originally from the UK, Burke has a keen vision of the internationally influenced, locally produced flavors he puts on the menu.
"We'll tell you where the produce originated and the background of the farm, distillery or brewery where it was produced," Burke said.
Equally important to Burke are the relationships he wishes to foster through the community, and he frequents nearby local businesses such as the Bread Lounge, Stumptown Coffee Roasters and various farmers mar- kets in Los Angeles.
While lunches are more in the style of a New York deli, for dinner Burke suggests ordering a variety of dishes such as the meat and cheese charcuterie boards with artisan breads, the braised oxtail sliders or steak tartare with mustard ice cream.
Americano's New-York style pastrami flatbread with mozzarella and shiitake mushroom, topped with fresh basil, is a classic. And the amaretto-soaked tiramisu is one dessert you do not want to miss.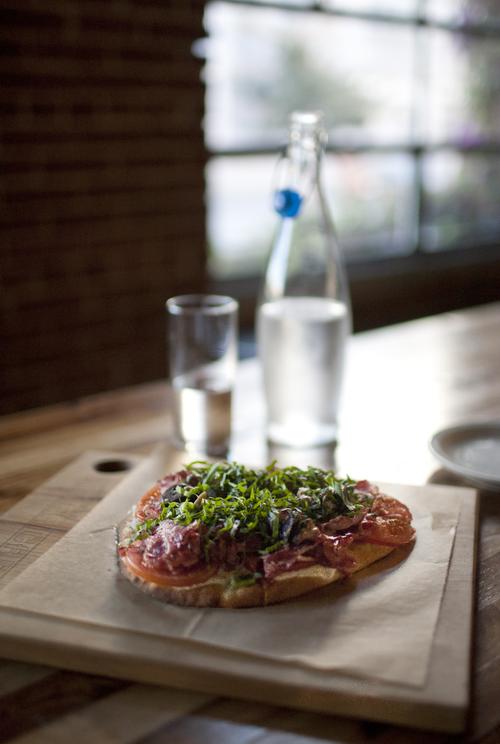 As the late afternoon crowd winded down, Burke reflected upon the source of energy that has created the casual, fun spirit of Americano today.
"This area has always been a destination for creative people. Like the meatpacking district in New York City, in the '80s and '90s artists came for affordable housing, so it has always had that artistic flair. It's been influenced by a lot of cultures – nearby Little Tokyo, Chinatown, Boyle Heights; it's a melting pot of cultures. From a workforce perspective, there are lots of creative types in fashion and jewelry but also just white-collar workers too. The artist district is unique in itself. It is continually changing, just like art is."
How did a charming, simple wallet lead to a global destination for artists and admirers alike? Poketo, an art-decor gallery store founded in 2003 by husband-and-wife duo Angie Myung and Ted Vadakan, stemmed from a desire to create affordable but high-quality design pieces from artists all over the world.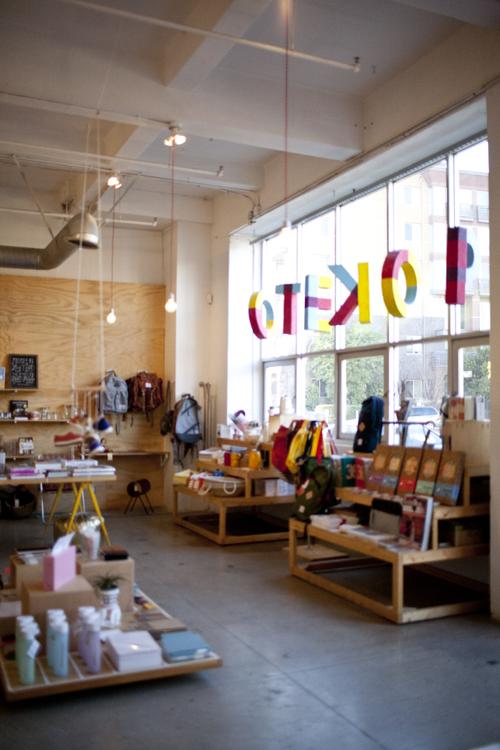 Through this concept, the couple began working with various artists to design handcrafted wallets that include a short bio, story and pen as well as contact info.
"We wanted to make something that can travel with you anywhere, as if we're taking the art off the gallery walls and making it more accessible. We collaborate with artists all over the world, and when we find an item we really like with a story behind it, we'll work with anyone," Myung said.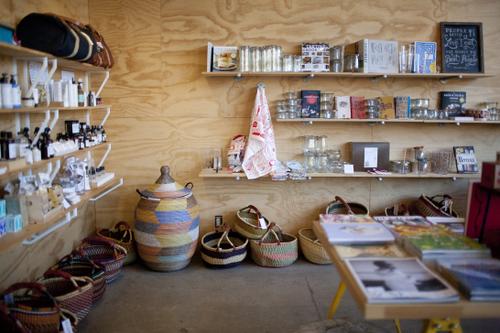 Flash forward to 2014, and rows of printed stationary, colorful home goods, canvas backpacks and art magazines are only a few of the distinctly crafted pieces that line the walls of Poketo. As the team's creative director, Myung cites her grandmother as a main inspiration and the reason behind the store's name.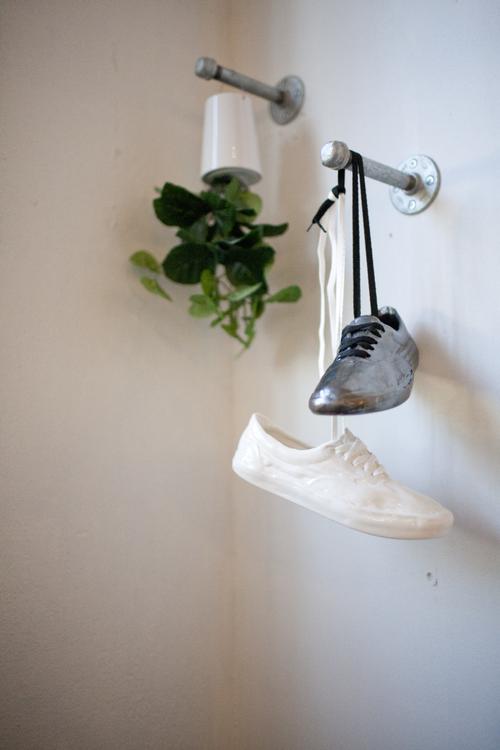 "My grandmother is really dear to my heart and she would always mispronounce certain words like cup ("coppu") and pocket ("poketo"), and the name just stuck," she recalled with a smile.
With a 52-piece homeware capsule collection designed for Target under its belt, Poketo is now focused on in-store workshops such as leather-crafting, floral-arranging and calligraphy.
"Handwriting is such a lost art," Myung mused. The couple is also busy with the opening of the newest branch of Poketo at The Line Hotel in Koreatown. Looks like a visit downtown to these creative spirits is in order.