Eye for Design: Student photographer's work takes unique angle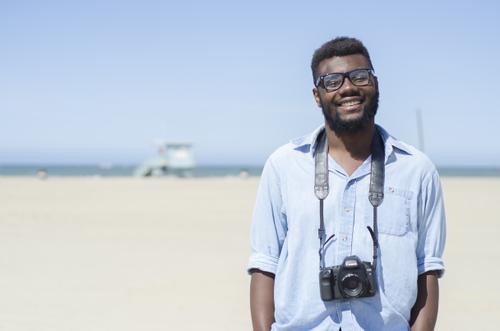 Rakeem Cunningham is no stranger to eccentric outfits and 7 a.m. call times. On a pristine blue morning at the Santa Monica Pier, onlookers stop to observe a model clad in a textured oversized coat and monochrome white, unaware that the photographer behind the lens is a student at UCLA. Cunningham, a fourth-year Design | Media Arts student who said he used to hate the idea of shooting fashion, only started taking photos professionally in his second year, after helping his fashion designer cousin. Since then, through working with a variety of magazines, such as Chasseur and Rocket, he has discovered a knack for conceptual photography.
Unable to find a fashion organization he identified with on campus, Cunningham turned to real-world sources, exposing himself to designers, trends and changing fashion seasons around the world in the process.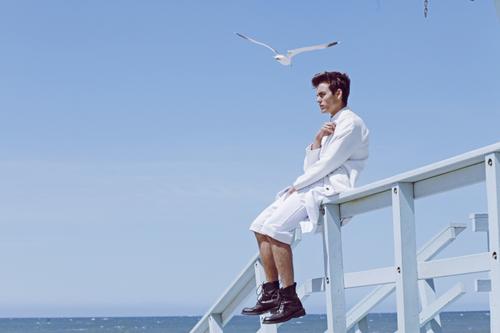 "When I first started, I wanted to do a James Dean-themed shoot in the middle of summer," Cunningham said. "My friends were like, Rakeem … it doesn't work like that."
Cunningham's volume of work reflects a passion for capturing simple, understated aesthetics and a photographic style that appears raw and effortless.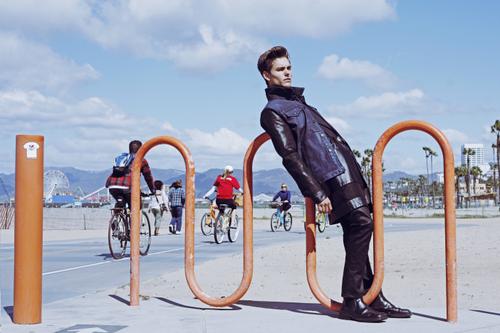 "Oh, but it's effort," Cunningham quipped. "My work doesn't have to be groundbreaking, it just has to be something creative I haven't done before."
Right now, Cunningham describes his work as "British," pointing to the U.K.'s mixture of daring, high-end street wear, such as kilts with nose rings and layered jerseys.
"I'm attracted to dark, somber subjects that aren't as PG as my photography once was," Cunningham said. He cites his favorite photographer, Tim Walker, who uses film to create ethereal images in dark, moody settings, as a major source of inspiration.
Although Cunningham has learned to incorporate a fluid mesh of fine arts and design into his work today, the realization that the two styles could complement each other did not come easily.
While in a photography class as a fine arts student, Cunningham was told by his professor that his fashion-related projects did not fit the realm of fine arts.
"So for my next idea, I used a photo of my sister with a sign reading, 'Is this art now?' And then I switched majors," Cunningham said. "But it's funny because now, I'm really enjoying mixing the two. I'm learning you don't have to know exactly what you want to do, but if you work at something hard enough, people will notice and respond."
Through the collaborative, detailed process of fashion photography, Cunningham has created strong, lasting relationships with stylists, models and creatives alike. In fact, his shoot for prime magazine features celebrity stylist Wilford Lenov, whom Cunningham met two years ago and has creatively grown with ever since.
Lenov said that the moment he really appreciated and respected Cunningham's art was last summer, when Cunningham broke his leg and the pair worked together constantly to fulfill his need to keep photographing.
"We were shooting by Broad (Art Center), and as soon as I turned my back away to fix something, his wheelchair started slowly falling backwards, and I hear, 'Wilford. Wilford?'" Lenov said, laughing. "To want it that bad ... it's crazy, and it's inspiring."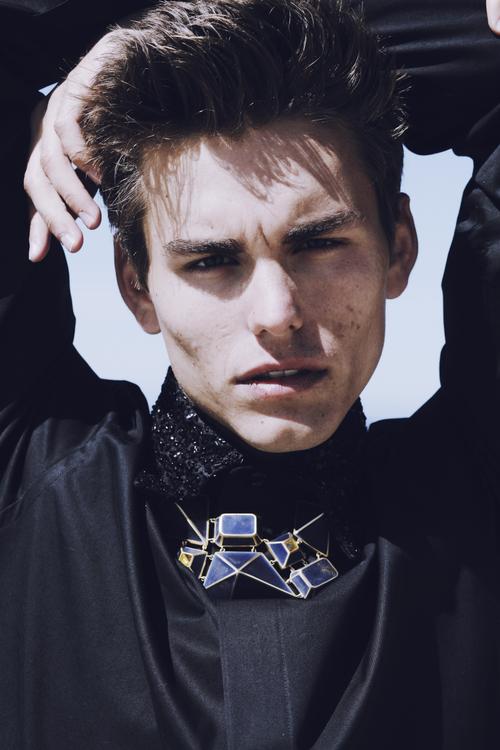 Before this year, Cunningham admits he was scared to express his opinions about the negative aspects of the industry he's in. Lenov added that recently, Cunningham's work has become far more bold and daring.
For his senior project, Cunningham created a video about different things he experienced as a 21-year-old, including depression, sexuality, racism, creativity and artistic freedom.
"I've found that the more I'm honest and true to myself, the more people react to it, and it's really empowering," Cunningham said. "I want to do things that satisfy me creatively, and the ripples that have resulted have just been insane."
As for his future? "I have absolutely no idea," Cunningham said.
Cunningham dreams of shooting the cover of Vogue someday, but for now, his main interest lies in fine arts and expressing experimental ideas.
"All I know now is that I want to keep creating. Hopefully in New York or London. That would be my aha moment."