Recipe: Cinnamon Buns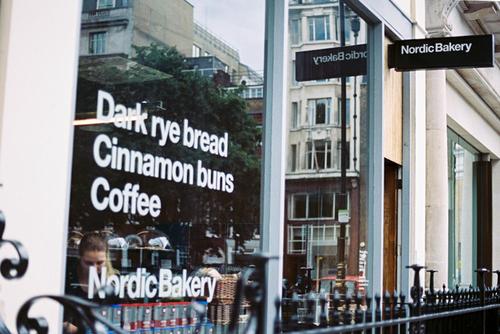 Four blocks away from my dorm, theater signs flickered brightly against the night sky for as far as I could see. For many tourists visiting London, Soho is where they go to see "Les Miserables," or a place they wander around after visiting the British Museum. But for me, it was more than that. It was home.
Even as I got to know my neighborhood in the six weeks I lived there, it was still full of surprises. One afternoon, I discovered a street food festival that only happens once a year. Another day, I stumbled upon a bakery.
On a quiet side street in London's Soho neighborhood, there's Nordic Bakery.
I spotted the storefront's thick white lettering as I turned the corner of Golden Square, and the scent of cinnamon filled the air before I fully stepped into the bakery. Once inside, I heard the slow whir of coffee being made, lingering conversations humming in the background and a steady flow of people in and out. Soon after, I had a cinnamon bun in hand, still warm from the oven.
When I was in the bakery, it no longer felt like I was in bustling London. It was a refreshing change of pace from passing quickly from one museum and monument to the next.
The cinnamon buns at Nordic Bakery were different from American cinnamon buns. They were firm on the outside, soft in the center, less sweet and more spiced. But, like the cinnamon buns I'm used to, they were comforting.
When I think back to London, I miss the jazz music that echoes through the tube station and the East London markets that come to life, especially on warm and sunny days. I miss wandering through my neighborhood without a definite plan. I miss turning the corner and seeing the glass storefront promising cinnamon buns. After being home for a while, I still smile when I notice details at home that remind me of my time in London, especially these cardamom-scented cinnamon buns.
---
Recipe
Nordic Bakery Cinnamon Buns
Makes 12 large cinnamon buns
Ingredients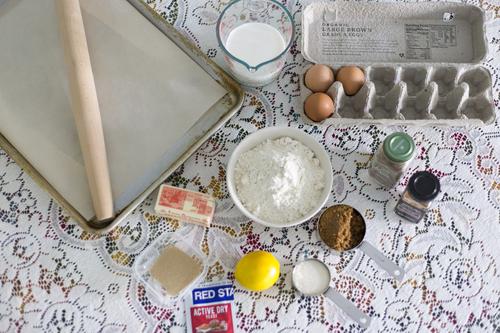 Dough
2 ⅓ cups lukewarm milk
¾ cup sugar
4 ½ teaspoons, or 2 envelopes active dry yeast
½ teaspoon ground cardamom
12 tablespoons or 1 ½ sticks unsalted butter, melted
1 egg, at room temperature
8 cups all-purpose flour
Filling
6 ½ tablespoons unsalted butter, softened
1 cup packed dark brown sugar
3 tablespoons ground cinnamon
Glaze
½ cup sugar
1 tablespoon lemon juice
½ cup water
Materials
Two baking sheets
Parchment paper
Large bowl
Spoon or spatula
Nonstick cooking spray or oil
Rolling pin
Knife
Small saucepan
Instructions
(1) Line two baking sheets with parchment paper.
(2) In a large bowl, mix together the milk, sugar, yeast, cardamom, melted butter and egg. Let the mixture sit for a few minutes until it is foamy. Add the flour, and mix until dough forms. Transfer the dough to a lightly floured surface, and knead until smooth. Place the dough in a greased bowl, cover, and let rise in a warm place for about one hour, until doubled in size.
(3) Punch down the dough, and transfer to a lightly floured surface. With a rolling pin, roll the dough out until it is about 12 inches by 30 inches and ¼ inch thick. Spread the softened butter over the dough. Combine the dark brown sugar and cinnamon, and then sprinkle it over the dough.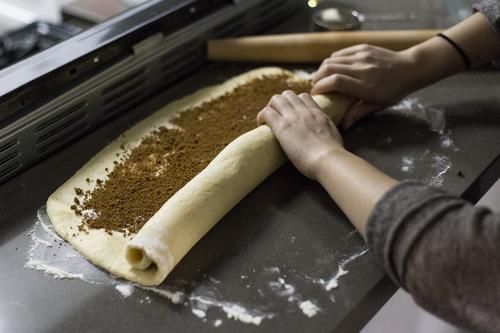 (4) Roll the dough up from a long edge. Cut into 2 ½ inch rolls at an angle – make the first cut diagonal, then do the same in the opposite direction. Continue until about 12 buns are cut. Transfer the buns to the parchment-lined pans with the longest edge of the bun sitting on the baking sheet. Cover, and let rise in a warm place for 30-60 minutes until nearly doubled in size. Preheat the oven to 400 F.
(5) Bake the buns for 20-25 minutes, until golden brown. Meanwhile, make the glaze. Add the sugar, lemon juice and water to a small saucepan, and bring to a boil. Simmer for 10-15 minutes.
(6) Remove the buns from the oven, and drizzle the glaze over the tops. Serve warm with a cup of tea.