prime City Guide: Joshua Tree
Hiking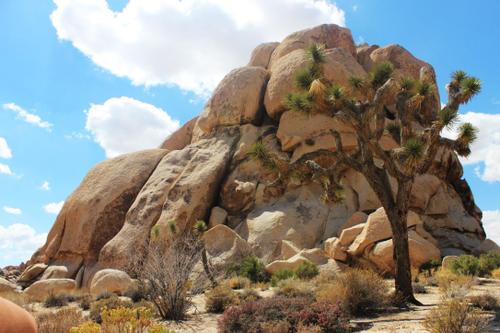 My family and I are avid backpackers and hikers. When I first went to Joshua Tree National Park, I was dead set on trekking through its backcountry. But since it is a desert in Southern California with remote access to water, we settled for day hikes and staying at the campsites in the national park. We only had a short 24 hours down there, but we were determined to make the best of it.
We arrived late on a Friday night, by which time all of the campsites had been filled. We followed the directions to overflow camping, which took us to a random patch of shrubs, not far from the freeway. The headlights and occasional blare of a horn kept me grounded as I drifted off staring into the starry night.
The next day, we went by the Oasis Visitor Center in the north of the park to prepare for our day. We decided to tackle the Lost Palms Oasis and Mastodon Peak – a hike approximately 7 miles long, round trip. It took us roughly three hours to complete at a leisurely pace. The trail is located in the south of the park, isolated from many of the other hiking and climbing areas, so there weren't as many people.
The hike starts in a dry area just like the rest of Joshua Tree, but slowly transforms into a tranquil green patch of various flora and fauna. The path runs alongside an old waterway that ends in a damp, marsh-like area, which I assumed was once a water hole. The trail ends at the Lost Palms Oasis. Located at the bottom of a valley, the oasis consists of larger-than-life palm trees and plenty of tabletop rocks. In our opinion, the perfect place for a picnic. We headed back from the hike just around 1 p.m. Although we were low on water, we were still thirsty for more dirt trails in Joshua Tree. We got back to our car around 2:30 p.m. and decided to hike to the top of Ryan Mountain before exiting the park.
Ryan Mountain is in the center of the park and is one of its biggest attractions. Although the round trip is only 3 miles, getting to the top requires more than 1,000 feet in elevation gain – do not underestimate this hike. Bring plenty of water as it gets hotter the higher you go.
At the top, alongside the stunning backdrop of Joshua Tree, is a pile of rocks with the sign "Ryan Mountain, elevation: 5,457 feet." Conquering that was our last feat of the weekend as it was time to head back. We trudged down the mountain as the sun was starting to fall, along with the temperature. We had a long drive from the dream that is Joshua Tree, back to the reality we face in Los Angeles.
Town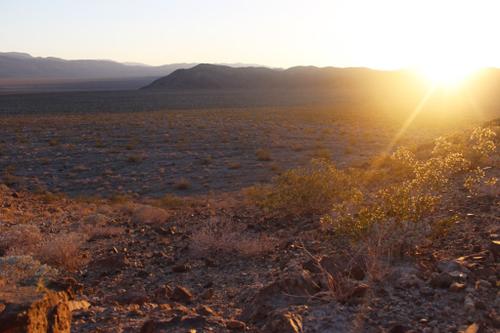 Joshua Tree National Park is one of nine national parks located in California. I'm all for the great outdoors, but for my day trip, I chose going into town over hiking on top of humongous rock formations – otherwise known as rock climbing.
I trip enough over flat sidewalk as is.
A few friends and I drove into Twentynine Palms from our Airbnb house in the park, with the air conditioner blasting. A sign off the single-lane freeway called our name: Cactus Mart.
Admittedly, I should have been happy with the native cacti I was surrounded by in a desert; however, I wanted tiny succulents for my dorm room, and it is against the law to uproot plants from a national park.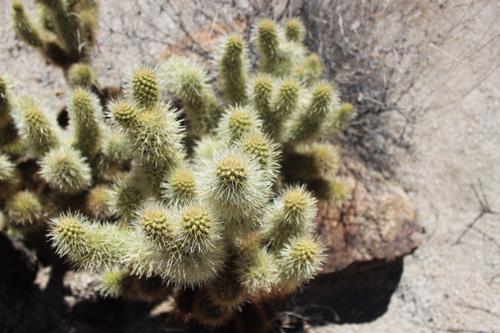 We parked and were instantly greeted by some of the friendliest small-town store owners I have ever met. They learned about our long journey from Los Angeles and gave us a tour of the store before instructing us on do-it-yourself potting techniques and plant care.
After watching us struggle, one of the employees laughed and took up a spade to join us in "getting our hands dirty," as we attempted to shove cacti into tiny pots and not crush them in the process. Clearly not in Los Angeles anymore, each succulent cost $1.
We exchanged goodbyes and were told to honk on our way out of town.
Continuing our tour of the three-block downtown, my friends and I visited a few thrift stores and vintage shops. In Pioneer Crossing Antiques, I tried on a puffy dress from the '40s that made me look like a possessed prom queen.
At this point, we'd worked up an appetite and I was treated to my first-ever trip to Sonic Drive-In, roller skates and all.
As the sun set, we happily drove back to the Airbnb house, our hands and laps full of french fries, shakes and drought-tolerant plants.
A day later, we drove past the Cactus Mart on our way back to Los Angeles, and remembered to honk. We shrieked happily as we saw our new friends run to the roadside to wish us off, waving and cheering as they shrunk to specks in the desert.
Climbing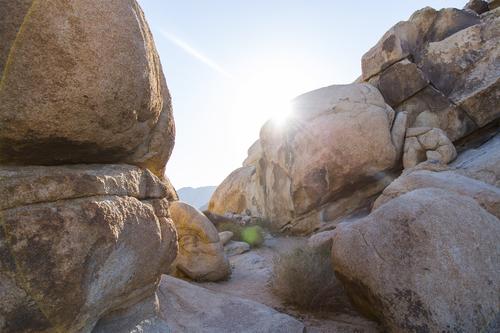 Joshua Tree National Park is a gem for anyone who wants to sunbathe on rocks like a lizard, boulder through cracks and up the ledges to get a new perspective of the heavens or just relax and camp out amid a desert escape. It has held a special place in my heart ever since my parents, who were married there, took my sister and me camping as kids and let us explore the rocks and climb over small boulders.
Today the landscape still stretches as far as the eye can see; hills of granite still spread over the sandy world in a plethora of formations and shapes. They give fans of bouldering and rock climbing gleams in their eyes. I love bouldering on the rock heaps in Indian Cove Campground, and on a recent trip, I found the perfect wall.
The amazing traction of the granite texture gave my hands and feet fluidity in movement as I crouched, jumped and slipped from rock to rock. As my arms reached for each handhold, I watched the ground grow farther and farther away. I climbed in early morning on the shaded side of the rock, so as I approached the summit, rays of light bled over my climbing path. Bright orange and yellow lights contrasted brilliantly with dark shadowy rocks. Once I reached the top I didn't yell out in victory. I didn't take a panoramic photo with my camera. I just stood there and looked all around.
I love Joshua Tree for the private peace and solitude you can easily find among the rocks. This scene, this moment was mine and mine alone. It was a few minutes of surreal beauty and peace that solely belonged to my vantage point. Even for just a weekend, moments like these help me hit pause on my constantly stressful and busy life and feel like I'm in an alternative universe. This reason is perhaps why more and more rock climbers and yogis are moving out here – to freeze time and find themselves.
The scenery seems straight from a movie or some distant wild paradise but in reality, Joshua Tree rests about three and a half hours east of Los Angeles, making it the perfect city escape.