More than a Park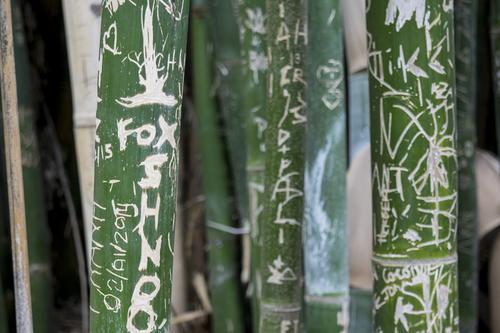 Thick red bark twists around the tree's core, stretching tall toward the forest canopy. Its rust-colored body is reminiscent of its cousins, the coastal redwood and the giant sequoia, which comprise the tallest and largest trees on earth. Fossils of the dawn redwood had been found strewn across North America in wide abundance, but scientists thought it to be long extinct. In 1944, however, one tree was discovered in China, revealing an isolated range where the species lived. Seeds have since been dispersed around the world. One now grows adjacent to a dense cluster of bamboo and a bench built in honor of a man who loved to play cricket.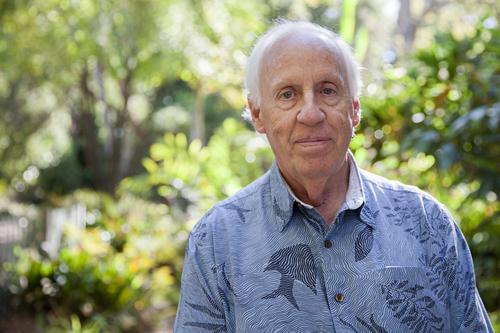 Philip Rundel, director of the Mildred E. Mathias Botanical Garden, likes plants with good stories.
Tucked between Tiverton Drive and Hilgard Avenue, a vine-covered chain-linked fence defines the boundaries of the 7.5-acre botanical garden, which cultivates more than 3,000 of those stories. Rundel said he tries to take a walk through the garden at least once a day.
"It's always fun to discover new things," he said.
Sitting at a picnic table, Rundel took a sip of his Diet Coke. Signs posted near the entrance of the garden warn visitors not to feed the squirrels. The leaves of a Schefflera elegantissima provide shade over the patio. Now in his 48th year of teaching biology and fourth year leading the botanical garden, Rundel said he is still learning new things every year.
The garden has received many of its plants from local nurseries or other botanical gardens. Occasionally, Rundel said, they will salvage plants from nearby buildings that are in line to be demolished. Community members will sometimes donate plants they can no longer take care of. The dawn redwood's seeds came directly from China. The garden now hosts a vast collection of plants from biomes that range from the desert to the tropical rainforest.
"What's been exciting for me as a plant person, is this garden is full of subtropical things from Australia and southern Africa and Southeast Asia," Rundel said. "There are a ton of things that I've never seen before."
Much of Rundel's work, he said, is focused on making the garden accessible for a wide community of students, staff and locals in terms of education and providing a wild space within the urban. Occasionally, a siren blares or a car horn blasts. Hammers and saws chime loudly behind the patio, as the La Kretz Garden Pavilion undergoes construction – a building which will serve as a new visitor center and classroom. From within the garden's fences, however, one can barely see the surrounding rectangular buildings underneath the arboreal canopies. "Physiologically and psychologically, when you go into a garden, things change," Rundel said. "Your blood pressure goes down, your brain waves smooth out, your stress hormone levels go down."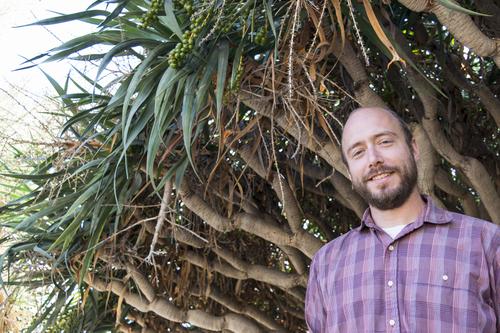 Evan Meyer, assistant director of the botanical garden, arrived at the garden in October after holding a position at the Rancho Santa Ana Botanic Garden, which specializes in native California plants. With this background, he is currently working to revitalize UCLA's own native section. The wide variety of plants as a whole, he said, is what made the botanical garden stand out in his eyes as a setting to teach about biodiversity and conservation.
"The vast majority of life comes from the energy produced by the sun that is captured by leaves. ... They're the fabric of all life on our earth," Meyer said. "There are so many different plants that once you become interested in them, it just makes the world a more interesting place."
Meyer described himself as the plant equivalent of a car lover. When driving down the freeway, he said, someone might be able to identify a Mustang and describe the inner workings of its engine. For him, it's identifying a Mexican fan palm while walking through Westwood and being able to describe its origins in Baja California. Meyer said he's always seeking out the wild landscape, whether it's deep in the Amazon rainforest or in the sidewalk cracks of Santa Monica.
"(Plants are) the backdrop of everything from nature to cities," he said. "And they all have a unique story."
The Mildred E. Mathias Botanical Garden is open seven days a week to visitors ranging from art students to biology faculty to local community members. On any given day, students can be found scribbling in notebooks or parents can be seen having lunch with their children.
"Some people might walk through here and think, 'Oh, it's just like a nice park,'" Meyer said. "But it's much more than that."
The staff responsible for the daily maintenance of the garden, Meyer said, comprises a group of five people, other than himself, who can recite Latin names of plants, know how much water an obscure palm needs to grow, fix irrigation pipes and run tractors and chainsaws. Many have been working at the garden for over a decade or more.
"It's not because we pay them big bucks," Rundel said with a laugh.
Cultivating the story
Before the La Kretz Garden Pavilion could start construction, all of the plants in the area had to be relocated. Burchellia bubalina, a wild pomegranate native to South Africa, was one of these plants many gardeners thought to be too large to transplant at the time. But Paul Galuska wanted to try. About seven months after uprooting and replanting, the shrub-like tree had lost every single leaf on its branches. Some told the gardener to take it out – it was dead. But he persevered, trimming back the branches drastically and giving it daily pep talks. Now, nine months later, several clusters of bright green leaves are emerging from woody stalks.
"That plant and I have a special bond," Galuska said.
The botanical garden office is located on the first floor of the Botany Building, situated on the north end of the garden. Yellow Post-it notes label bookshelves stacked full of texts related to botany and gardening. Buckets sit on the floor full of stakes and green species placards, and cubbies hold a collection of tools and gardening gloves. Meanwhile, a potted plant soaks up sun by the window.
Joan Muench, senior garden manager and volunteer coordinator, sat in a swivel chair with a gardening knife strapped to her belt. A baseball cap with an embroidered logo for the Hawaii Tropical Botanical Garden rested upon a cluttered stack of papers by her side.
While Muench studied graphic design at UCLA, she had never heard of the garden that existed on the southern end of campus. Her career there first began on a Sunday in 1995. She had been taking a UCLA Extension course in horticulture when she met with the garden manager and asked to volunteer.
"There's something very similar about plants to art," Muench said. "There's color, there's form, there's shape, there's design."
As a graphic designer, Muench said she designed brochures, retail catalogs, packaging for shoes, pots, pans, linens and more. The garden itself has its own kind of design, she said, as many of the plants are broken up into sections according to family or geographic location. When planting new species, Muench and the other gardeners take into account how tall or wide the plant will grow in relation to other plants nearby. Muench said the process and the plants have very therapeutic qualities.
"I think of our garden as sort of a little oasis in the midst of LA chaos," she said.
On a day-to-day basis, she said the gardeners' tasks are always different – they range from accessioning new plants to pruning, weeding and raking. Prior to volunteer days on Tuesdays and Fridays, Muench said she walks through the garden to pinpoint jobs for helpers to do. Most recently the work has gone toward planting more than 70 new plants in the California native plants section.
Galuska walked into the office then.
"Here's one of our staff, right off the bat," Muench said. "This is Paul. ... He started as a volunteer too, like me."
Galuska was introduced to the botanical garden three years ago, but his affinity for plants began while helping his father maintain his rose gardens at their New York home.
"Me and my two brothers were the natural labor force for him," Galuska said. "And so we – out of osmosis – learned a lot of stuff."
He'd always been one for flowers, he said, and he continued to cultivate roses, zinnias and others that his daughters would cut, decorate with ribbons and sell in roadside stands. Galuska was trained in the Master Gardener Program at the University of Connecticut and eventually came to own his own landscaping business, before leaving the East Coast for California when his wife took a job with UCLA Health. While he lives in an apartment in Santa Monica now, he said he keeps a balcony garden and works part time at the botanical garden, maintaining the grounds, helping with volunteers and talking to his Burchellia bubalina, which grows alongside the garden's service road.
"Did I tell you that we found a drainage pipe?" Galuska asked Muench.
"So that's where the leak is?"
"It's where the water's coming from," he said. "It's probably picking up water from uphill somewhere, so we still haven't found the leak."
"This is what we have to deal with," Muench said with a chuckle.
Soon thereafter, senior nursery technician John Cluff entered the office, a small Chihuahua trailing at his heels.
"And that is Helena, his little dog who is here every day with us," Muench said. "She's the mascot for our garden." Cluff calls her Sasquatch.
While Helena has been riding in her owner's green garden cart for nearly nine years, Cluff started as a volunteer at the botanical garden 22 years ago. Rather than working with the plants, he said he is more attracted to the landscape, spending most of his time building pathways, bridges, water features and more.
"I think I could stand anywhere in the garden and see something I've worked on," Cluff said. "I like creating a space that people can enjoy." Henry Varney, another senior nursery technician, has likewise held a long tenure with the garden, starting his relationship with the space as a student worker while attending UCLA in the 1960s. After a break, he returned to the garden again in 1992.
"Really my whole life to one extent or another I've been doing gardening," Varney said.
He said his mother took pictures of him as a toddler digging up the plants she had just planted in her garden. Occasionally, Varney will still dig up plants, but only if necessary.
"I somehow gravitated towards some of the physical labor that no one else wanted to do," he said. "(I) was digging out stumps and things like that in various places in the garden."
For Varney, the botanical garden provides a natural space not really accessible in the rest of UCLA's campus. "Little gardens, little patches of grass, a tree here between two buildings, OK," he said. "But here you can actually walk through stuff. There's dirt, it smells right and you can be part of nature."
Muench expressed similar sentiments.
"I just like working with the staff and being outdoors," she said. Catching Cluff's eye across the room, she raised her voice: "I love working with the staff." "Don't print that," Cluff said. The room shared a laugh.
Spreading the word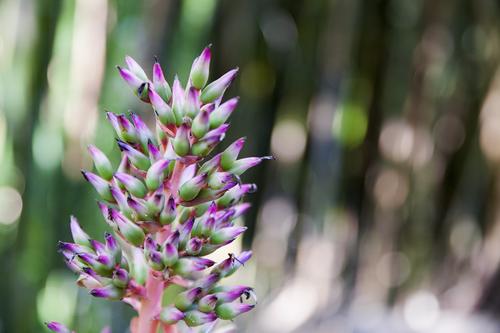 For Hercules' 11th labor, three golden apples had to be stolen from the Hesperides, daughters of Atlas. Ladon, a dragon with 100 heads, guarded the apples but did not survive his match with the demigod. When Hercules slayed the dragon, its blood spilled over the land, and from it rose trees with dozens of branches resembling twisted snake-like necks with sap the deep red color of blood. Native to the Canary Islands and the Atlas Mountains, the dragon tree grows in the sun-exposed desert section of the botanical garden, and its mythological wounds still seep through its bark. Dorothy Jewell's bench sits underneath the shade of the dragon tree. While she was enrolled at UCLA more than 10 years ago, she would often come to this spot to eat her lunch and fend off hungry squirrels.
Today, she serves as one of many docents in the Mildred. E. Mathias Botanical Garden, and she often brings visitors to this spot to tell them the tale of the dragon tree.
The docent program at the botanical garden is comprised of a group of volunteer naturalists that lead interpretive tours through the garden and teach people of all ages about its immense diversity and ecological intricacies. A woman sat a picnic table with her son, who worked diligently on his spelling homework. Wendy Morris, the director of programs and tours, said hello and asked to join them.
Maggie Nelson, Morris' assistant, picked up a fallen leaf from the table and remarked on its pretty yellow and orange color. Another docent, Michelle Lee, a fifth-year geography/environmental studies and ecology and evolutionary biology student, identified the oak species without bothering to glance at the tree's placard.
Each docent, Morris said, is trained to give a program with content of their choosing that functions as a reinforcement of Mildred Mathias' legacy. Mathias, the namesake of the botanical garden, filled the garden with plants meant especially to create an educational space for the public.
"She understood ... that ethnobotany, the study of medicinal plants, is hugely important," Morris said. "And as human populations spread out more and take up more land and plants are cut down, you lose things with great potential before they are recognized. So I like the idea that we're preserving things here that might turn out to be important."
With more than 3,000 species available to present on, Morris said the only challenge of creating a program is having enough time. Nelson said she likes teaching the children and telling them stories about her own childhood memories.
"I tell them when I was their age, my teacher brought in a vase with these flowers, and I was so drawn to them," Nelson said. "I could just remember the shapes. They were so unique to me. And then she told us the name – birds of paradise – and I remember thinking as a little child, 'That is the most perfect name they could have come up with for a flower.'"
Oftentimes, the docent program is asked to present specific tours. One third-grade class visits the garden annually for a unit on deserts. Once, local physicians requested a tour specifically of plants that cause allergies.
"Remember that tour with the blind fellow from England?" Jewell asked. "Wendy and I, we went around the garden thinking of things that smelled and things that you could feel."
Because the garden is so diverse, Morris said the changing landscape is very teachable. Just moving from the desert section, where the sunshine is full, down the slope by the stream, the temperature difference is highly noticeable and allows for a tangible experience that can explain local adaptations, she said.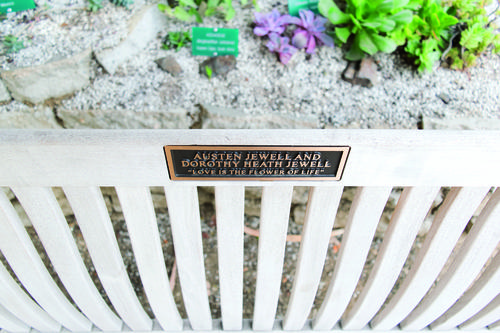 "It's fun also to just take 10 minutes to walk around and feel like you've been traveling," Morris said.
Lee in turn likes to teach her visitors about the interconnectivity some plants share with the landscape – bromeliads, large and often flashy tropical plants, for instance, provide a food source for capuchin monkeys, a place for frogs to lay eggs and a home for a variety of insects.
"These plants are just so integrated in the ecosystem," Lee said. "They provide the base of everything."
When giving a talk to children, Nelson said she always asks how the garden makes them feel.
"I want them to really want to come back," Nelson said. "That this is just the very beginning in their experience of what nature is and what an important role it can play in our lives."