All Abroad: Washington, D.C.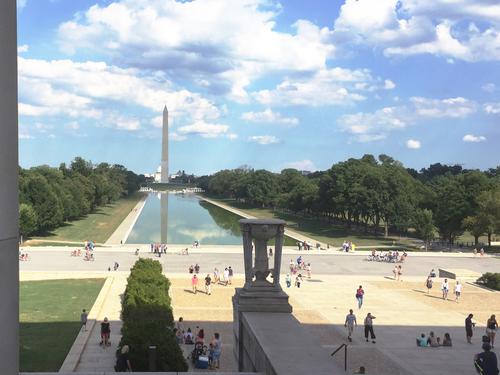 There's a lot to see in Washington, D.C. Museums, monuments, people who look like they could be famous politicians.
There's also a lot to be in Washington, D.C. Each morning, the sidewalks are packed with every kind of person imaginable. The suits on their way to Capitol Hill, the khaki-and-hoodie-clad kids on their way to a think tank startup, the less easily identifiable but still very important-looking professionals.
For me, Washington, D.C., is the place to start becoming an adult.
I've started opting for black coffee over sugary latte concoctions, swapped out running shoes for heels and take more than five minutes to get myself ready for the world every morning.
I'm also living in a new city, across the country from where I grew up and went to college, working an almost full-time internship at 60 Minutes and figuring out what I want to prioritize once I put on that cap and gown come June.
Just last night, I took a run down Pennsylvania Avenue after work. I know how that sounds, but Pennsylvania Avenue is one of two running routes I have – the other being Constitution Avenue. It's very Washington, D.C., I'm aware.
Anyway, I felt undeniably "House of Cards" running in the dark, the illuminated dome of the Capitol glowing in the distance. I took a left at the White House and ran past Trump International Hotel Washington, D.C., with all its bright lights, American flags and subtle foreboding. A few blocks later I pulled up outside the Newseum, feeling less Claire Underwood and more Hannah Horvath in terms of TV characters who run.
On the smooth facade is carved one of many quotes: "Freedom includes the right to be outrageous. Responsibility includes the duty to be fair. News is history in the making. Journalists provide the first draft of history."
That idea is grand and self-serving, but also kind of intoxicating. Does that quote apply to any of my work to date? No. Does it apply to what's going on in the world right now? Definitely. The dichotomy between those two answers currently epitomizes a dilemma in my life – the gulf between where I am and where I want to be.
We can revisit this topic in March and I might very well be hyperventilating, but at the present moment the idea of the future is exciting. But as I clearly spend a good deal of time thinking about it, there's a lot I'm going to miss once college becomes the past.
Moving away from LA – which after two months in Washington, D.C., is something I've decided I want to do (see: "House of Cards" runs down Pennsylvania Avenue) – won't be easy. I keep dreaming up various schemes in which I convince all my friends to move to the same East Coast city as me. Texting and Skyping isn't the same as flopping down onto a couch in the Daily Bruin office and venting about life's every injustice.
This is also the first time in three years I've worked in an office that wasn't run by students. Where my coworkers weren't also my best friends and the people I spent all hours with, even when we weren't in the office.
I've also thought a lot about what I'll take with me from college – what did I really learn? As most Daily Bruin staffers will tell you, the most impressionable lessons occurred in that student-run office, not necessarily a classroom. It's crazy to me that in return for working too many hours a week and for caring too much about our student paper, I might gain access to a career where I can continue to work too much and care too much.
I was asked to write about my experience "abroad" for this piece. I guess my time away from campus has a lot to do with all the time I spent on campus, as well as everything I hope comes next.